Juventus midfielder Arturo Vidal was dropped by coach Antonio Conte on Sunday and is also likely to be fined after returning late from a World Cup qualifier with Chile.
The midfielder, arguably Juve's most influential player after Andrea Pirlo and goalkeeper Gianluigi Buffon, returned on Saturday afternoon, blaming missed flights and a strike at an unidentified airport.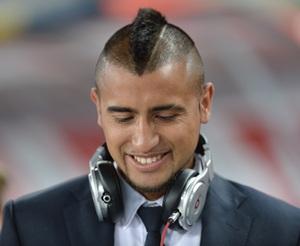 "The rules are there and have to be respected," Juventus director Giuseppe Marotta told reporters. "We have spoken to him and he will certainly be fined.
"It's right that Conte has taken this decision."
Vidal was left on the bench for the start of the Serie A match at Fiorentina and brought on in the 76th minute of Juve's 4-2 defeat.
Image: Arturo Vidal of Juventus
Photograph: Dino Panato/Getty Images