The World Anti-Doping Agency (WADA) has announced it will not appeal against the decision to ban American cyclist Lance Armstrong for life and strip him of his seven Tour de France titles.
-IOC to investigate Armstrong's Olympic medal
WADA had the option of challenging the ruling that was made by the United States Anti-Doping Agency (USADA) and backed by the International Cycling Union (UCI).
-Can we really forget Lance Armstrong's legacy?
"WADA has no concerns as to the complete process and the overwhelming weight of evidence," president John Fahey said in a statement on Friday.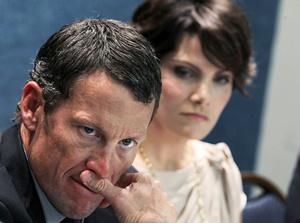 "Rather it is of the opinion that the actions of USADA have highlighted the need in all cases for athletes to be able to come forward with evidence that will help rid sport of doping cheats.
-All about the Lance Armstrong doping case
"This case has resulted in a right and proper sanction for the athlete in question and has served as a revelation to the world of sport. For this USADA must be applauded," Fahey added.
-How the noose was tied around Armstrong's neck
WADA, which has been embroiled in a war of words with the UCI over their handling of the case, also called on cycling's governing body to reveal details of its independent investigation which it vowed to undertake following revelations of widespread doping.
"WADA has had no communication from the UCI with regards to their upcoming inquiry, nor indeed the Armstrong-reasoned decision, nor the UCI management decisions," Fahey said.
"WADA will want to contribute to the inquiry if it is established and resourced beyond reproach.
"This is not a situation in which just because the athlete did not return a positive test there was nothing more the governing body of cycling could do," added Fahey.
"It has taken a major effort and undertaking from a national anti-doping organisation to gather the compelling evidence following allegations raised by (cyclist) Floyd Landis in 2010."
Armstrong has also been ordered to pay back millions of dollars in prize money and threatened with legal action after being exposed as a drug cheat.
The 41-year-old Texan, a cancer survivor, has denied cheating and never failed a doping test but was banned after electing not to fight the charges made against him.
The USADA said the evidence against Armstrong showed prolonged use of a range of performance-enhancing drugs including erythropoietin (EPO), blood transfusions, testosterone, corticosteroids, human growth hormone and masking agents.
The organisation produced testimony from 11 of Armstrong's team mates who were also involved in what the USADA called the most sophisticated doping programme ever seen in sport.
Photograph: Alex Wong/Getty Images