Borussia Moenchengladbach goalkeeper Kasey Keller was named the United States Soccer Federation's male athlete of the year for the third time on Thursday.
Keller, 36, becomes the first player to win the accolade three times after taking the award in 1997 and 1999.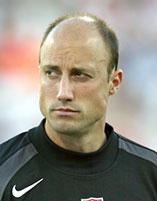 "Kasey is well deserving of this honour," said U.S. coach Bruce Arena in a statement. "He had an outstanding year and continues to demonstrate why he is such a valuable part of our team.
"His leadership and ability to make saves at key moments in a game were a large factor in our success during the qualifying campaign," Arena said. "The fact that he is the only three-time winner of the award is a testament to the
consistency, commitment and dedication he has displayed throughout his career."
Keller appeared in 14 games for the U.S. team this year, keeping eight clean sheets and conceding only eight goals as he helped the Americans qualify for a fifth straight World Cup finals and win the CONCACAF Gold Cup, the regional championship.
During qualification, Keller set a U.S. record as he went 639 minutes -- a span of seven games -- without conceding a goal. He made his international debut in 1990 and has 89 caps.
Back in favour as the United States' first choice, the 2006 finals marks Keller's fourth World Cup, but will only be the second he has played in after being relegated to reserve status in 1990 and again 2002 when Blackburn Rovers' Brad Friedel helped the U.S. to the quarter-finals.