Celtic midfielder Roy Keane is retiring following medical advice, seven months after leaving Manchester United.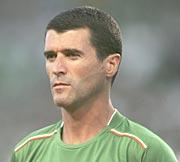 The Irishman, who will be 35 in August, has been suffering from a hip problem for some time and said last month he would consult doctors before deciding whether to play another season with Celtic.
"Having received medical advice from my surgeon and the Celtic FC doctor, I feel my only option is to retire," he said in a statement on Celtic's website.
Keane left United in November and joined Celtic who went on to win the Scottish title.
Renowned for his indomitable will to win and rugged tackling, Keane won seven league titles and four FA Cups with United, and was team captain until last year's departure following a disagreement with manager Alex Ferguson.
Ferguson has said Keane was the best United player in his 20 years in charge at Old Trafford and "the best midfield player in the world of his generation".
Last month Keane returned to Old Trafford for a testimonial between Celtic and United, watched by almost 70,000 fans.
Celtic manager Gordon Strachan, another former Old Trafford midfielder, said on Monday: "Roy Keane is one of the greatest ever players to grace the game of football.
"It was fantastic that we were able to bring him to Celtic and it has been a privilege to work with him."
"While we would have very much liked Roy to continue for the remainder of his contract, everyone at the club fully
understands and respects the decision which he has made."
Cork-born Keane retired from international football in October after Ireland failed to reach the 2006 World Cup in Germany.
He won 66 caps and missed the 2002 World Cup after walking out shortly before the finals following a row with then manager Mick McCarthy. He won his first cap against Chile in 1991 and played in the 1994 World Cup.
PIVOTAL ROLE
He played a pivotal part in United's success after joining from Nottingham Forest for 3.75 million pounds ($6.91 million), then a British transfer record, in 1993.
He was the enforcer in a side containing the attacking talents of David Beckham, Paul Scholes and Ryan Giggs but missed what would have been the crowning moment of his career, the 1999 Champions League final victory over Bayern Munich.
Keane was suspended after earning a yellow card in the thrilling semi-final victory over Juventus.
Keane was Ferguson's on-pitch alter ego -- ruthless and uncompromising.
There were occasional bust-ups between the two before Keane left United in November after Ferguson pulled a television interview in which his captain, then injured, made disparaging comments about his team mates.
However, Ferguson is in no doubt about the impact Keane had on United.
"Do you say he was a better player than Cantona, Scholes or Giggs? Of course he wasn't as talented as those players, nowhere near it," Ferguson said last month before the testimonial.
"But without question his obsession with winning, the demands he put on other players and his desire to win football matches made him the most influential player in the dressing room."