India cruised to a comfortable win over Argentina as their raiders flexed their muscle to notch a record 54 point margin win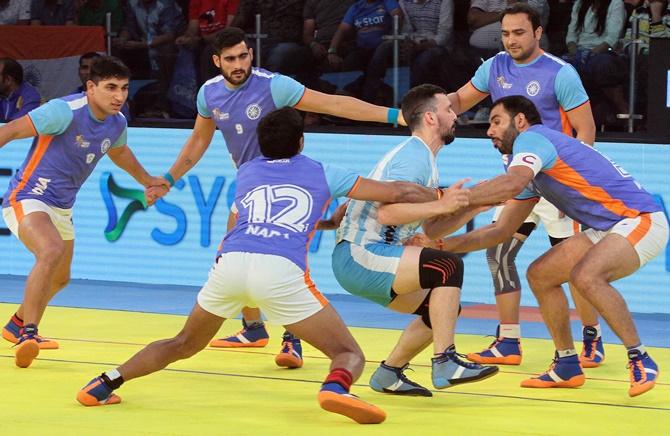 India thumped Argentina to score a world record margin win as they won 74-20, in pool B Kabaddi World Cup match, in Ahmedabad, on Saturday.
India hardly broke a sweat as Rahul Chaudhari and Ajay Thakur combined to score 25 raid points between them. Manjeet Chhillar and Surender attained a high five each to score 11 points to lead India's charge.
India are second in group B with 16 points from three games whereas Argentina are bottom with zero points from four games.
India created a record of most tackles in a match in the World Cup.
India made a swift start and led 3-0 after three minutes. Nahuel Villamayor opened Argentina's account in the second minute to trail 1-3. Pardeep Narwal and Sandeep Narwal scored a point apiece as India led 6-1 after three minutes. Ajay Thakur made a successful raid in the fifth minute as India led 9-3. India inflicted an all out in the sixth minute to lead 12-3.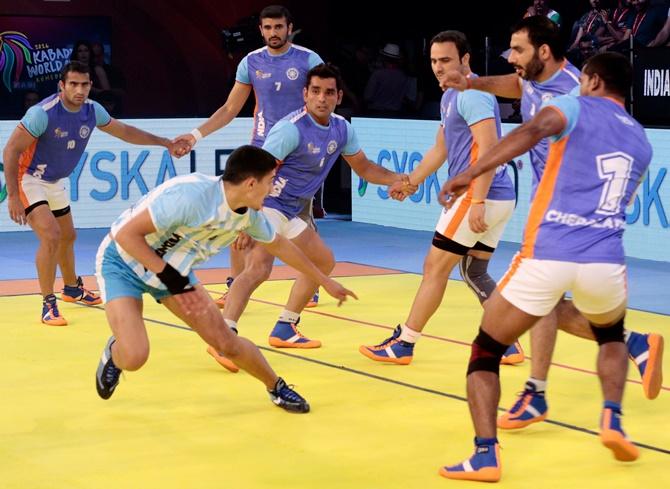 Ajay Thakur led the scoring charts for India in the first half and scored 11 points. Surjeet was a rock at the back for India and achieved a high five in the first half. India inflicted another all out in the 19th minute to lead 35-11. Argentina were no match for India and struggled to cope with India's superiority in all departments. Pardeep Narwal scored five points for India in the first half as India led 36-13 at the break.
Thakur attained a super ten in the 22nd minute as India led 38-13. India didn't relent at any point in the second half as hey led 41-13 after 24 minutes. An all out was inflicted by India in the 25th minute to lead 45-13. Rahul came on as a substitute on the 26th minute to score his first point as India led 47-15.
Rahul Chaudhari scored two more points in the 28th minute to give India 50-15 lead. Nahuel Villamayor scored seven points for Argentina as they trailed 15-53 in the 30th minute. India inflicted another all out in the 30th minute to lead 58-15 as Argentina were completely outplayed.
With less than four minutes to go India inflicted another all out to lead 68-17. Rahul Chaudhari scored 10 points in the second half alone as Argentina struggled to cope with him. India led 73-19 as Kiran Parmar scored with a two-point raid in the 40th minute. India put up a brilliant team show as they beat Argentina to record the biggest ever margin in the history of World Cup.