Eddie Jordan, the Irish entrepreneur who brought rock 'n' roll to Formula One, has not ruled out a comeback even as the team he founded prepares to leave the stage.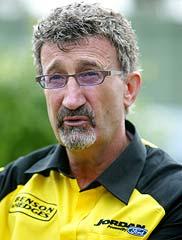 The Dubliner, who led his team to the heights and down again, will not be in Shanghai on Sunday to watch their final Grand Prix appearance after 15 years, 250 races and four memorable wins.
Jordan will be walking the Great Wall of China for charity instead.
"It's a sad day, a very sad day," he said by telephone from Beijing. "It's not just Jordan but also the people at Minardi and perhaps Sauber and BAR."
"Formula One has become extremely corporate...but I'm one of the fortunate ones, the only one of the four to have won Grands Prix.
"That gives me great satisfaction but it does not make me feel good if all of my colleagues and my friends find it impossible to be competitive."
The Jordan, Minardi, Sauber and BAR names will all be disappearing after Sunday, to be renamed by their new owners Midland, Squadra Toro Rosso (Red Bull), BMW and Honda respectively.
Jordan, who sold his team to Russian-born Canadian billionaire Alex Shnaider in January, said he is not bitter about the past or present state of Formula One.
However the power of the manufacturers, and their squeezing out of the smaller 'independent' teams whose only business was motor sport, troubled him.
"I don't want to sound bitter but I feel extremely disappointed for the fans," he said. "Even though the racing is great this year, it needs private teams.
"I would love to come back, I hope that [F1 commercial supremo] Bernie [Ecclestone] can in the future put together a Formula One championship...that is much more equitable and where a team like Jordan can compete.
"I'd come back then in those circumstances. But you couldn't risk your own and other people's money in a situation which [now] is so loaded against you."
LOCK-UP GARAGE
From the moment Jordan launched his team in a lock-up garage at a snowy Silverstone circuit in December 1990, with one unimpressed pundit wondering why he bothered, the team battled against the odds.
Yet they overcame severe financial difficulties to flourish, claiming a memorable one-two finish with Briton Damon Hill and German Ralf Schumacher in Belgium in 1998.
Michael Schumacher made his debut with the team in 1991, before being snapped up by Benetton, as did his current Ferrari team mate Rubens Barrichello in 1993.
In 1999, with German Heinz-Harald Frentzen, they finished third in the constructors' championship.
Of those who set out with Jordan all those years ago, seven people remain at the team today, one of them the director of business affairs Ian Phillips.
"It's sad because it's been a good 15 years and I think we've given something to the sport," he said.
"We were in an era where the privateers could do a good job, come in and have some influence if they were professional about it.
"Now the era of the privateer has gone, I believe temporarily. It's mighty difficult to compete right now as an individual, you just can't do it. Entrepreneurship alone won't get you through," said Phillips.
"The chapter is closed, all good things must come to an end at some stage...in the first seven to 10 years that we were in business, 16 teams came and went.
"I've always said that our biggest victory was actually survival. We've been around the globe 15 times and that's good enough for anybody.
"I think we can be proud of what we've achieved, it's the right time to close the book."