Shizuka Arakawa skated into the history books on Thursday, winning Japan's first ever Winter Olympics figure skating gold medal with a step-perfect performance.
While her main rivals tumbled, Arakawa produced one of the sporting high points of the Games in Turin which have yet to escape a doping scandal still hounding Austria's most successful team in a Winter Olympics.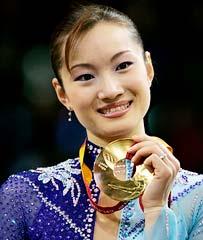 Sweden again shone, their women's curlers becoming the first to hold the Olympic, world and European titles at the same time and China caused a surprise when Han Xiaopeng won the country's first gold medal in a snow event, the freestyle skiing aerials.
But it was Arakawa's night.
She beat favourites, Russian Irina Slutskaya and US skater Sasha Cohen, with a performance fitting to her choice of music, "Nessun Dorma", which ends with a tenor singing "Vincero" or "I will win".
Both her rivals fell, while Arakawa stayed on her feet completing 11 jumps, including five triple twists. Her haunting choreography and studied poise -- ending the programme with a bow of the head -- made her stand out.
Cohen, who has never won a major international event, tumbled out of the gold medal spot she gained in the early programme just 20 seconds into her Romeo and Juliet routine when she crashed to the ground on her opening triple Lutz.
In the end she only landed seven of 11 jumps.
Her defeat was yet another disappointment for a US team that has failed to live up to its hype.
US DISAPPOINTMENT
The US team has been pushed out of the top three in the medals' table, with 20 in all, including seven golds. Germany top the scoreboard with 24, which includes nine golds. Austria, suffering the doping saga, are second with 19 medals, and Russia third with the same number but fewer silver.
Russia's Slutskaya, who finished second four years ago, brought home a bronze after crashing to the ice. Head held low, she never regained her Rhumba and Flamenco flashiness.
Not so for Sweden's women curlers.
Sweden beat Switzerland 7-6 in extra ends, completing an unprecedented treble of world, European and Olympic titles.
Canada, said to be home to 94 percent of the world's curlers, took bronze after the team routed Norway 11-5.
"It's an amazing feeling," said Swedish lead Anna Svared. "The team really deserved it, we so deserved it because we are mentally so strong and have the best team spirit."
For China the unthinkable became reality. Having never won a gold in a snow event, Han Xiaopeng, 22, triumphed in the men's freestyle skiing aerials.
"I never thought this would happen," said Han. "I'm overjoyed with such a win. I feel like I'm in a dream."
AUSTRIAN GLOOM
Austria could not really enjoy their best medal haul.
They are waiting for doping tests on 10 of their athletes and are trying to find the truth behind raids on their living quarters on Saturday that unearthed blood transfusion equipment, syringes and medication, according to police.
"We don't suspect any person in particular. But there must have been someone who handled these materials," Austrian Olympic Committee secretary-general Heinz Jungwirth said.
But other officials doubted the presence of blood transfusion equipment and lamented the scandal.
"It's outrageous, they haven't found anything. You can imagine what the mood is like in the Austrian team," said Alfred Eder, head coach of Austria's biathlon team.
The raids were triggered by a tip-off that a coach, banned from the Olympics over a blood doping affair four years ago, was meeting Austrian athletes. The coach, Walter Mayer, is now in a psychiatric hospital in Austria after crashing into police cars and, according to local media, mentioning suicide.
In speedskating, German Anni Friesinger pulled out of Saturday's women's 5,000 metres and American Shani Davis withdrew from Friday's men's 10,000 metres.
Health care product maker Johnson & Johnson had something to celebrate, however. They sealed a sponsorship deal with the IOC stretching to and including the 2008 Games in Beijing.