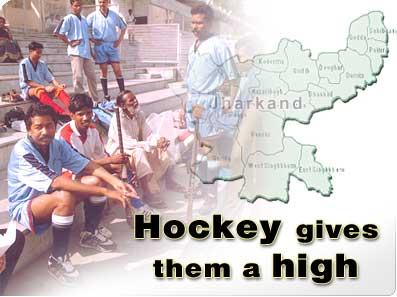 On a recent visit to Delhi I asked the taxi driver to take me to the Shivaji stadium. "Saab, aap Bharat ke hockey khiladi dekne jata kya (Are you going to see the Indian hockey team)?" he asked. I nodded. On reaching the venue, the driver exclaimed: "There they are, the Indian hockey team. They are practising here."
He was wrong. The Indian team had already left for the Olympic qualifer tournament in Madrid. But you could excuse his ignorance. After all, the players who were gathering at the stadium were clad in blue, similar to those donned by the Indian side. They were members of one of the 24 teams participating in the All-Adivasi YMCA Cup 2004, a tournament for the Delhi-based tribals of Orissa and Jharkhand.
The tournament, which kicked off on January 17, is played on weekends and will end this Sunday, March 14. In case you are a hockey fan and are in Delhi this weekend make sure to stop by. Rest assured, you will see pure, untapped hockey talent.
In fact, if you are among those who were surprised to know that eight members of the Indian women's hockey team that won the Asia Cup recently hail from the tribal belt in Orissa and Jharkhand, your scepticism will end after watching these tribals play the game.
The young men have not gathered at the Shivaji stadium because of the Rs 10,000 cash prize the YMCA is offering the winning team, or the Rs 500 for the player of the tournament. They are here because hockey is in their blood and it gives them a high. They are among the 100,000 migrants from Chottanagpur in Jharkhand and Orissa who come to Delhi, Faridabad and its surrounding areas to make a living. Some are employed as security guards and domestics, others as labourers on construction sites.
Sushil Lakra, a qualified Indian Hockey Federation umpire, is the man behind the tournament.
"This tournament is nothing new," he explains. "Because of the enthusiasm back home we have been staging a tournament for Adivasis since 1997. But this year, thanks to Mark Clive [Director, YMCA's sports cell] YMCA has stepped into promote the tournament in a big way. At home some of these boys play with bamboo sticks made from branches, without shoes and without rules. Here we are trying to get them to play in an organised environment with the latest equipment and on astro turf."
Indeed, there is passion when the Adivasis play hockey. You have to be there to witness it. Not a quarter was given as the teams, comprising players from the border villages of Orissa and Jharkhand, battled it out in the last round of the league stage. A look at the results of the league stage reveal how intense the competition was. But for a couple of matches which ended up with a tennis scoreline, the rest were closely fought affairs.
Most of the 400-odd players in the tournament may never have dreamt about playing on a decent ground, leave aside astro-turf. But they are inspired by the exploits of former India players from their region, like Jaipal Singh (1928 Olympics), Michael Kindo (1972 Olympics and 1975 World Cup), Sylvanus Dung Dung (1980 Olympics), and current players like India captain Dilip Tirkey, Ignace Tirkey and Bimal Lakra.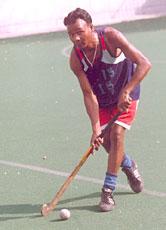 Twenty-six year-old Sunil Kujur from Gumla in Jharkhand is one of them. He is small-built and unassuming, but possesses good speed, sense and ball control that would shame players at some of our leading clubs. He grew up hearing about Michael Kindo and Dung Dung, though now it is Dilip Tirkey who inspires him.
"I make it a point to watch television when our team is playing. All my friends watch. We never expected a player from our region to play for India. Now we have Bimal [Lakra], Ignace Tirkey and Dilip Tirkey playing for India," he says proudly, informing me that Lakra is from Simdega and Bimal's home is close to his.
Employed as a construction labourer, Sunil earns a meagre Rs 2,200 from his job and has a wife, four sisters and three brothers to support. Yet, he makes it a point to keep some money aside to buy all he needs to play hockey.
"An ordinary hockey stick costs around Rs 350 or so, so I save Rs 50 every month to get a new one for the next tournament. These are bamboo sticks and get spoilt playing on astro-turf. Then I have to buy special shoes. You can't play with canvas shoes on the ground; they get wet," says Sunil with a smile as he prepares for his 10.30 am match. He was at the ground at 9 am, practising set-piece drills with a couple of friends.
"This is the only time we get to play hockey. So, I adjust my timings with my boss and work extra on other days to make up for the holidays I have been taking on Saturdays for this tournament," he says.
Some players can't even afford a pair of shoes to play. They wait for an earlier match to end to borrow a pair.
"The shoes for playing on astro-turf are costly. If we buy a pair we use it all the year round for daily use," says Augustus Toppo. "Even the goalkeeper's pads and chest guard and helmet are unaffordable."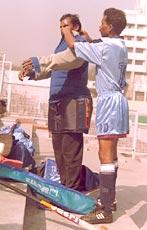 Hockey is a costly sport. It takes around Rs 25,000 to kit and field a team. Thanks to the YMCA, these Adivasis are provided basic amenities, like the goalkeeper's gear, which costs around Rs 10,000 and hockey sticks, for the tournament. The YMCA also hires out the ground for Rs 1,000 a day.
Sylvester Kujur is president of the Tribal Society, one of the teams playing the tournament. The Society is engaged in social work and caters to the needs of migrants to Delhi.
"Our society helps women get jobs as domestics in Delhi, Faridabad and Noida. You will be surprised to know that over 70,000 women and 50,000 men from Chottanagpur work in Delhi. We take a small fee and help them find jobs."
"For this tournament," he adds, "we bought clothes,shoes and hockey sticks from the small fee we collect from our members. We buy it in bulk from Jalandhar as that is much cheaper. Of course, we cannot buy fibre sticks."
Adds Kujur, "Some of these boys are good players. They need to play in a tournament to show their skills."
Talent abounds in the tribal areas of Jharkhand and Orissa. Says R K Bhatia, an umpire officiating in the tournament: "There are some players who are really good. At least 20 or 25 of them can easily make it to some of our leading clubs."
Bhatia is right. After watching the players for two days, one can surely say the same.
The Indian Hockey Federation's talent scouts should stop by the Shivaji Stadium this weekend if they want to unearth raw talent.
The YMCA is already toying with the idea of picking promising players and putting together a team.
"There are some really good players who we can pick and train," says YMCA Sports Secretary Ajitpal Singh.
Sushil Lakra concurs: "From the response to this tournament we are looking in that direction. We hope to train the players and try and field a team in some invitation tournaments, like the Bombay Gold Cup. It will give the boys a chance to display their talent so that some clubs or institutions can pick them. If even one from this tournament can make it big, it will be an achievement for us."
Without doubt, some of these Adivasis have it in them to make it big. They have hockey in their blood and deserve a chance to showcase their skills on a bigger stage.
Sometime ago it was said Sansarpur in Punjab is the hub of Indian hockey. That claim may need to be reassessed soon.
Photographs: Vijender Tyagi.
Ivan Crasto is Editor, Sports, rediff.com