If anyone needed a reminder that violence in soccer stadiums remains a problem in Italy then Wednesday's game between AS Roma and Dynamo Kiev provided it.
The question is whether this latest incident will finally lead to any action from authorities who have so far proven incapable of tackling the problem.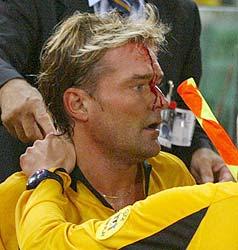 The Champions League match at the Olympic stadium was abandoned after Swedish referee Anders Frisk was struck on the head by a missile thrown by a fan and had to receive medical treatment for his bleeding wound.
'Disgrace in Rome' was the headline in the daily Gazzetta dello Sport the following day and, as is customary after nights when football is marred by violence, pundits are pondering the reasons why Italian football continues to be blighted by hooliganism.
They do not need to spend too much time agonising for the answer is remarkably simple -- no one keeps order in football grounds in Italy.
While serious clashes between rival fans inside or outside stadiums remain relatively rare, the throwing of objects onto the pitch or into other areas of the stadium has gradually become the dangerous norm.
Last season's decisive end of season game between Milan and Roma was ruined by the antics of visiting Roma supporters who hurled all manner of objects down towards the Milan players.
Milan's goalkeeper Dida, who should have been enjoying sealing his first 'scudetto', had to keep goal while missiles rained down on him from the stand behind his goal. Twice he had to receive treatment after powerful firecrackers exploded near him.
The choreographed firework displays put on by the hardcore 'ultras' before games are seen as part of the build-up to big derbies and do indeed add to the atmosphere, but too often the flames are used not to entertain but to maim.
Outside every stadium in Italy is a sign which declares that along with knifes and guns, coins and cigarette lighters, fireworks and small explosives are not allowed.
Yet every week, in almost every stadium, these potentially damaging weapons are indeed brought into the stands and frequently lobbed into the areas occupied by rival supporters.
Either the fans are simply not checked on entry or a blind eye is turned to the pyrotechnics.
While you cannot take a canned drink into English stadiums, in May 2001 Inter Milan fans were able to take a stolen moped into the San Siro before setting it alight and hurling it from the second tier.
LAX SECURITY
The moped incident not only illustrates the laxness of security checks on entry, it also shows that there is little in the way of preventative action taken inside stadiums.
When crowd trouble begins the police stand by in a corner, afraid to enter the territory of the 'ultras', while stewards who can barely be bothered to check people's tickets are hardly going to take on a public order role.
Laws have been passed to make it easier to arrest fans after matches on the basis of video evidence, but closed circuit cameras are not used at all grounds and the police are usually as ineffective in chasing up hooligans after the event as they are in trying to stop them at the time.
The number of arrests after serious incidents is almost always tiny -- fans know there is a good chance that if they misbehave they will get away with it.
The lack of coordination between club and stadium officials and law and order agencies was vividly illustrated last season when the Rome derby was abandoned following a false rumour that a young Roma fan had died.
Roma fans were allowed to come on to the edge of the pitch to talk to players and the final decision to call the game off, which prompted a riot, came not from an official in the stadium but from the Football League president, who was sitting at the other end of the country watching on television.
Why people turn to violence is a question that sociologists and psychologists have long been disputing but what matters for people in football is how to ensure it stays outside of their game.
Proper policing, well-organised stewarding and the firm application of the law are hardly imaginative or radical solutions but the Italians might want to consider giving them a try.