American John Isner won the US men's clay court championship in Houston with a 6-3, 7-5 win over top seeded Spaniard Nicolas Almagro on Sunday.
For fifth seeded Isner, the runner-up in Houston last year, the title is his sixth on the ATP Tour but his first on clay and his performance drew the praise of his opponent.
"He did a really good job today. He played aggressive," said Almagro, who like Isner was playing in his first final of 2013.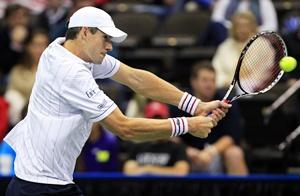 "He served like normal, but today was tough for me. I want to congratulate him, because he's a really good player and a good person and I think he did a good job this week."
World number 23 Isner broke the 12th-ranked Spaniard three times to secure the win 81 minutes.
Isner finished with seven aces to Almagro's five and set a tournament record with 64 aces during his run to the title, beating Pete Sampras' mark of 60 in 2002.
Photograph: Daron Dean/Reuters