Russia underlined their total dominance in the synchronised swimming programme at the world championships on Saturday by completing a sweep of all seven gold medals with victory in the free combination team event.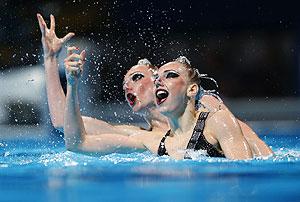 After winning all seven titles at the previous world championships in Shanghai two years ago and six out of seven at both Montreal in 2007 and Rome in 2009, the 10-strong Russian team wowed spectators at the Palau Sant Jordi with a typically acrobatic routine to amass a points total of 97.060.
Spain got the home supporters rocking with a rousing Elvis Presley-themed routine to take silver with 94.620 and Ukraine clinched bronze ahead of Japan with 92.020.
"We did here our maximum," Svetlana Kolesnichenko, who teamed up with double solo gold medallist Svetlana Romashina to win both duet events, said.
"We did everything that we wanted to do so it's a big mix of emotions."
Alba Cabello, at 27 one of the senior members of the Spanish team, said she and her team mates were now looking ahead to the next Olympics in Rio de Janeiro in 2016.
With China competing in Barcelona in the solo and duet events only, Spain held off the best of the rest to take three silvers behind the Russians in the team competition.
"If someone doubted that our team could win a medal in each event, they can look at the result and see that we've reached our target," Cabello said. "We will continue to fight for medals."
Photograph: Michael Dalder/Reuters