Maria Sharapova withdrew from the Brisbane International on Tuesday due to inflammation around her collarbone and the world No 2 is still unable to hit a serve just two weeks before the start of the Australian Open.
Sharapova, who spoke optimistically about the new season on Monday, was forced to withdraw from her second-round match against Australia's Jarmila Gajdosova in Brisbane, saying it was the "smart move" to make.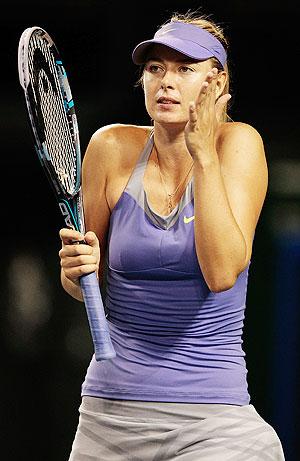 The French Open champion also pulled out of an exhibition match against Caroline Wozniacki at the end of December in Seoul because of a sore collarbone.
"That's why I had to pull out of the exhibition match I had in Korea," she said at a news conference on Tuesday.
"I had a bit of inflammation in my collarbone. My doctor in New York told me I couldn't really do much overhead training for about a week.
"So to be fair, I haven't really given myself a chance to pretty much hit any serves or anything over my head. Just been practicing groundstrokes.
"So I just kind of ran out of time here."
While the season's first Grand Slam is set to start on January 14, Sharapova was not overly concerned about her preparations.
"I still have quite a bit of time to prepare for the Australian Open," she added. "I'm on the right track, been training really well, so I just don't want to jeopardise what I've gained in the off-season so far.
"I just have to make a smart move here."
'OUT OF TIME'
Sharapova said she expected to travel straight to Melbourne rather than make a late entry into the Sydney International next week.
"I have my own fair share of experience, and know that it's much more important to be healthy to go into a big tournament like the Australian Open than to go into something big with a lot of matches and feel like you're not prepared health-wise," she said.
"You never know with these things. I mean, there are so many parts of the body where I'm sure if every one of us did an examination we would find a lot things wrong with us.
"But when it started getting a little too painful, I had to do a few tests. The doctor said, 'You always want to train but it's the off-season. He said I just had to calm it down for like five days.
"When I started back here I was feeling much better, but just like I said, couldn't do much overhead stuff and ran out of time."
Brisbane tournament director Cameron Pearson said Sharapova had made every effort to play.
"We feel for Maria because we saw first-hand how badly she wanted to play for the people of Brisbane," he said.
"She has been fantastic since she got here and worked hard in the gym, on court and in the medical room to do everything she could to get herself right.
"Unfortunately she didn't make it. We hope that she can recover sufficiently from the injury to take the court for the Australian Open and wish her all the best for the summer."