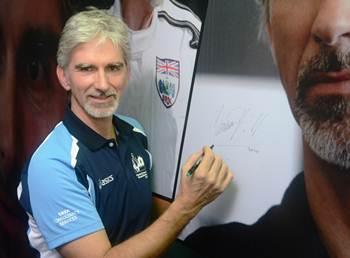 Former Formula One World champion Damon Hill says the decision to scrap the Indian Grand Prix after just three years of its launch was a "shame", especially as the Buddh International Circuit in Greater Noida has a "great track".
"It seems to me that there is a bureaucratic challenge, which has meant the Indian Grand Prix can't return. It's a shame. I thought it was a good start and a lot of effort was put in doing a great track there. The drivers liked the track," he told reporters in Mumbai on Thursday.
Hill is ambassador of the 11th edition of the Standard Chartered Mumbai Marathon, which will be run on Sunday.
The Indian GP, which made its debut in 2011, was struck off the F1 calendar for 2014.
"The question hinges on what is the value of an international event to India. Maybe, within India, it does not have the popularity that it has elsewhere and so it is perceived as not being important. But I think if you go outside India, to have a Formula One race is a good advertisement for a country," said the 1996 World champion.
The former British racer said he was shocked by the news of F1 ace Michael Schumacher's ski accident which has left the seven-time World champion in a comatose state.
The German legend is fighting for his life in a hospital after suffering a fall while skiing in the French Alps on December 29.
"It has affected everyone in sports. Definitely a cloud is hanging over Formula One at the moment because Michael has been such a large part of the sport, a large figure; we are all shocked by any kind of event like that," Hill said.
"Michael's accident has made us all realise how vulnerable we all are, how precious life is. It is a massive shock to everyone. We are all deeply concerned for him and praying for his family," he said.
"But, Michael loved skiing, he loved life and we all come from a similar make up. There are millions of people who go for skiing every year and enjoy the sport and I am sure that won't change.
"But it does remind us all of our vulnerability. Taking precautions is an essential part of taking risk and throwing caution to the wind is not an approach that any racing driver takes. I think racing drivers are very risk conscious," said the ace driver, whose father Graham was also an F1 champion.
The 53-year-old Hill, who was Schumacher's main rival in the mid 90s, praised the German racing great for his competitive spirit.
"We all owe Michael an enormous debt and gratitude for his competitiveness. He approached his racing in a forthright way and I think he pushed limits but that is just what sports is and you have to contend with that.
"My competition, Mika Hakkinen, David Coulthard's competition, (Fernando) Alonso, everyone had a chance to race against somebody. It was intensely competitive and you wouldn't ask for more," he said.
Image: Damon Hill