For the first time India will play host to the final rounds of the prestigious Thomas and Uber Cup championship next year after the Badminton World Federation (BWF) officially awarded the hosting rights to the country.
The tournament will be held at Siri Fort Sports Complex from May 18-25 in 2014, it was announced at a press conference.
Badminton Association of India president Akhilesh Das Gupta said it was a matter of pride for the country to be hosting the finals and it also shows the faith the international body has in the country's capability.
"This partnership shows how much faith BWF has in India's capability for hosting such a prestigious event," said Das Gupta.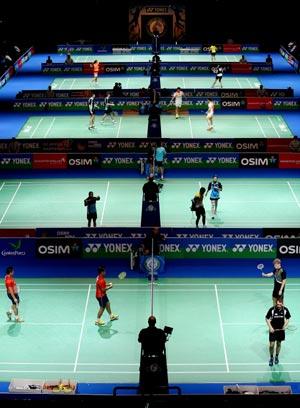 Paisan Rangsikitpho, Deputy President BWF, said, "India has shown a consistent improvement. It will be a good thing for the country to be hosting the tournament."
The Thomas Cup (world men's team championship started in 1948-49) and the Uber Cup (world women's team championships started in 1956-57) are the oldest major international events conducted by BWF.
From 2014, the event will be held in a new format as the BWF has decided to do away with the preliminaries. Earlier, continental preliminaries were held at different places and 12 teams made it to the final.
However, from next year only finals will be held and the number of teams eligible to be contesting would be 16. Out of the 16, 14 teams will qualify on the basis of their world rankings, while two there would be the holders and the hosts.
Meanwhile, in the wake of Saina Nehwal blaming a wrong line-call in the third game, which cost her match, Akhilesh Das Gupta said that the review technology will be tested during the next month's Sudirman Cup in Malaysia.
"It will be tested during the Sudirman Cup and it could be implemented in the Indonesian Open," he said.
Photograph: Scott Heavey/Getty Images