P V Sindhu and Anand Pawar kept India's hopes alive by making it to the semi-finals of the women's and men's singles event of the India Open Super Series Badminton Championship.
H S Prannoy, B Sai Praneeth and RMV Gurusaidutt lost their respective quarter-final matches to crash out of the men's singles event.
The 17-year-old P V Sindhu, who had beaten former World No.1 Shixian Wang of China at the Badminton Asia Championships in Taipei last week, continued with her fine form to get the better of Japan's Yui Hashimoto 21-16, 21-16 in 47 minutes.
Hashimoto, who defeated Saina Nehwal on Thursday, looked no match for Sindhu.
In the men's singles quarter-final, Pawar advanced into the last four stage winning against compatriot Ajay Jayaram, 21-6, 21-16. It took him around half an hour to beat his opponent.
P V Sindhu kept India's hopes alive in the women's singles at the India Open badminton, entering the semi-finals with a straight games win over Yui Hashimoto of Japan, in Delhi, on Friday.
In the opening game, Sindhu started off with a bang, quickly opening up a 11-4 lead and in no time extended it to 19-9. But just when things seemed to be in the Indian's total control, Hashimoto raised her game.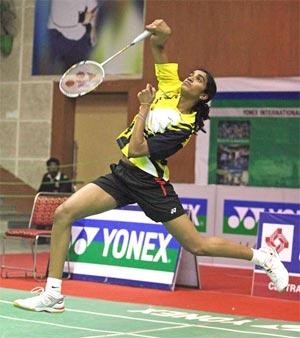 She went on to win nine points on the trot, mainly taking advantage of unforced errors from Sindhu, to reduce the gap to 16-19.
The Hyderabadi, who had the cushion of a ten-point lead, showed a lot of patience and clinched the next two points to seal the first game, 21-16.
The second game was a neck-and-neck battle with neither of the players sparing an inch. There was never a difference of more than three points between them and that continued till 14-14 before Sindhu won another three straight points to take it to 17-14. She allowed the Japanese just two more points before clinching victory.
"My opponent made mistakes and that made the difference," said Sindhu after the match.
Sindhu will next take on World No 6 Ratchanok Intanon of Thailand, who earlier in the day defeated India's Arundhati Pantawane in another women's singles match.
The Indian went down fighting to third seeded Intanon 14-21, 21-7, 21-16 in 52 minutes.
In the men's last-eight clash, Pawar dominated the proceedings, hitting as many as 21 smashes compared to just eight by Jayaram. It was a cake-walk for Pawar in the first game, while he was challenged a bit by Jayaram in the second. But in the end, it was an easy victory for Pawar.
He will meet sixth seeded Japanese Kenichi Tago, who defeated Sai Praneeth earlier in the day, 21-17, 19-21, 21-11 in a little over an hour. In the men's quarters, World No 1 Lee Chong Wei took 34 minutes to down Prannoy 21-14, 21-19.
Prannoy, who stunned former World No 1 Taufik Hidayat, started off well against the Chong Wei and the two were tied till 4-4 before the number one player simply took off and made it 11-4.
Prannoy fought back and it was again an even contest for a while but Chong Wei had by that time moved ahead to 19-9.
Not ready to give in so easily, the Indian won five consecutive points to get closer to Chong Wei with score reading 14-19. But Chong Wei came up with two shots that Prannoy had no answer to and he wrapped up game one 21-14.
In the second game, the Indian showed his mettle by gaining 12-9 lead. He then further capitalised on Chong Wei's returns finding the net thrice as the gap widened to 17-11.
Trailing 12-18, Chong Wei made an impressive comeback and showed why he is the best in the business. The Malaysian took four straight points to make it 16-18 before Prannoy once again managed to claim a point to move to 19-16.
But three unforced errors from the young Indian helped the seasoned shuttler level scores at 19-19. Then it was just a matter of two strokes and Chong Wei ended up on the winning side.
"While I am happy to have played against him but sad that I have lost. I could have played another game with him, had I won two-three more points (in the second game). So, I am a bit disappointed," Prannoy said.
Prannoy admitted to being nervous at the start of the match. "I should have played more to the centre of the court when I was leading 18-13. But the way he played from being 13-18 down is how experienced players play. That's how you can come back at any time. That is the kind of confidence Lee Chong Wei and Lin Dan have," said Prannoy.
Meanwhile, Sai Praneeth lost his match against sixth seeded Japanese Kenichi Tago 21-17, 19-21, 21-11 in 62 minutes.
Gurusaidutt also went down after a hard-fought battle against seventh seeded Boonsak Ponsana 21-12, 11-21, 21-12 in 58 minutes.