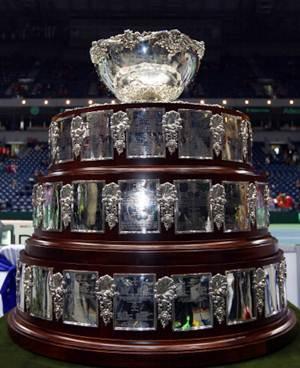 India was handed an easy draw for next year's Davis Cup campaign in Asia/Oceania Group I, pitted against Chinese Taipei in their first round tie.
It will be a home match for India as they played Taipei in Kaohsiung in 2009, eking out a 3-2 win over the hosts when the two teams played for the first time against each other.
Uzbekistan and Korea are the seeded teams this year and have a bye in the first round.
India is in the bottom half of the draw and if they beat Taipei in the first round, slated for January 31 to February 1, they will travel to Korea for the second round tie.
AITA president Anil Khanna said a decision on the venue will be made shortly.
"It is a good draw for us. We will discuss the venue and announce that shortly," Khanna said.
After a players' revolt early this year, the AITA agreed to consult players before deciding on the venue and surface for the Davis Cup home ties.
The AITA is also to decide a new captain, as S P Misra signed off in the match against Indonesia in Bangalore.
India's Davis Cup coach Zeeshan Ali expressed happiness over the draw.
"Playing at home is always welcome. This year we will play with full strength team so a good chance for us to get back to the World Group," Zeeshan said.
"Taipei have a good singles player (Yen-Hsun Lu) but we should be able to beat them," he said.
In the 2103 campaign, a depleted India, sans singles and doubles stars, suffered a 1-4 defeat to Korea, but beat Indonesia 5-0 to remain in Group I.
Chinese Taipei were whitewashed by Australia and China before they managed to stay in Group I after a 5-0 win over Indonesia in the relegation play-off.
World Group draw pits Czechs against Dutch
Meanwhile, top seeds Czech Republic were drawn to play their opening round of the World Group competition at home to the Netherlands.
Winners in 2012, the Czechs have reached the final again this year and will play Serbia in Belgrade on November 15-17.
Serbia, the second seeds and winners in 2010, were drawn at home to Switzerland while world No 2 Rafael Nadal's Spain will play in Germany.
Britain, helped back by Wimbledon champion Andy Murray, return to the elite after a five-year absence with a trip to the United States - who played the very first Davis Cup tie against Britain in 1900.
World Group draw (first-named country playing at home, prefix number denotes seeding):
Germany v 3-Spain
1-Czech Republic v Netherlands
Japan v 7-Canada
5-France v Australia
6-United States v Britain
4-Argentina v Italy
8-Kazakhstan v Belgium
2-Serbia v Switzerland
Image: The Davis Cup trophy
Photograph: Julian Finney/Getty Images