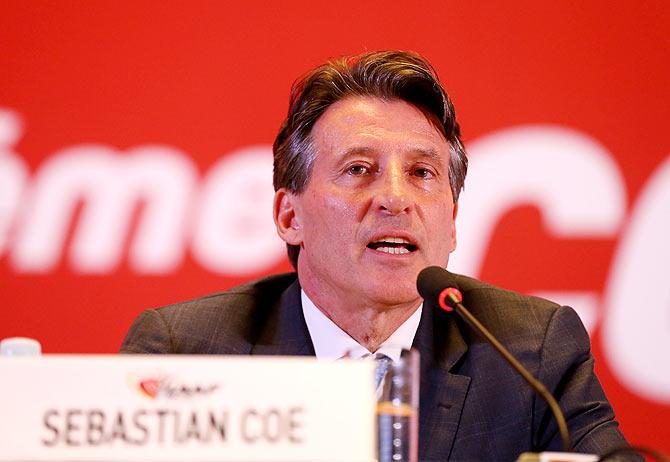 IMAGE: IAAF chief Sebastian Coe. Photograph: Alexander Hassenstein/Getty Images for IAAF
A sweeping reform package that changes how the scandal-hit governing body of world athletics operates was overwhelmingly passed at a special Congress on Saturday.
"This is a very important moment in the history of our sport," IAAF president Sebastian Coe told reporters after Congress members voted 182 to 10 in favour of the reforms.
The "Time for Change" proposals, the centrepiece of Coe's agenda for moving the sport forward from its tainted past, establish new independent anti-doping, integrity and disciplinary functions along with a greater voice for athletes in the organisation and more gender balance.
The reforms also place more governance power in the hands of the IAAF Executive Board.
Previously, much of that authority rested with since disgraced former president Lamine Diack, who along with his son Papa Massata Diack is currently under investigation by French authorities on corruption and money-laundering charges involving millions of euros.
Coe, who became IAAF President in 2015, said before the vote that the changes will restore trust in athletics and return confidence to clean athletes.
"Our partnerships and revenue streams are directly under threat if we do not act promptly and decisively," the Briton wrote in introducing the proposals.
An independent World Anti-Doping Agency (WADA) investigation last year said "corruption was embedded" at the IAAF under Diack who, it added, ran a clique that covered up organised doping and blackmailed athletes while senior officials looked the other way.
The investigation also exposed state-sponsored Russian doping, leading the IAAF to ban the Russian athletics federation and its athletes from participating in this year's Rio Olympics.
Another report by Canadian professor Richard McLaren on Friday is expected to reveal more damming details on the organisation and doping in Russia.
The congress concluded a four-day meeting of track and field officials during which the IAAF decided to continue its ban on Russian athletics.
Task force head Rune Andersen said progress had been made, but issues still needed clarifying, including how IAAF and RUSADA (Russian Anti-Doping) will be able to carry out testing without interference.
The governing body also celebrated the selection of nine- times Olympic champion Usain Bolt, who is retiring after 2017, as its male athlete of the year for a sixth time and chose Ethiopian 10,000 metres world record holder Almaz Ayana as the top female athlete.