Chess queen Koneru Humpy, who became the toast of the nation by winning India's first gold medal at the 15th Asian Games, has now set her eyes on winning the world championship, which she said, will be her biggest challenge.
The 29-year-old Humpy won the coveted gold medal yesterday in the women's rapid chess tournament and promptly dedicated the win to her parents who have always been a source of inspiration to her.
"I am very happy with this gold medal. My ambition was to get the gold and I was confident of getting it, particularly after I started off well," said Humpy, who became Asia's youngest International Master in 1999 and India's youngest Grandmaster in 2001.
"The win is because of my father, who coached me, and my mother, who was always next to me to give me emotional support," she said.
The Vijayawada-based player was composed and relaxed as she went into the final day and was aware that excitement or trying too hard could have an adverse effect.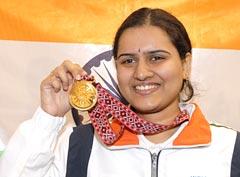 "I was in fighting spirit in the last few rounds and I feel chess is gradually becoming an important sport in India. I have won many medals but this win in the Asian Games is very important," she said.
"I hope this win will also help more youngsters to take up the game. If you have the required talent, you can have a good future," she said.
Humpy, the recipient of the Arjuna Award in 2003, regards Judith Polgar as her idol and has learnt a lot from her during her career.
"I admire Judith Polgar. She is my idol, as she is a very good player, competing against men in open tournaments. I want to follow her example and play in men's tournaments too," she said.
The gold medal at the Games was all the more special for Humpy as rapid chess is never her forte.
"Earlier I was not so good in rapid chess, but I practiced a lot and now I am really good at it. Of course, you can keep improving and there is no end to learning."
On who were her main competitors in the Asian Games, the unassuming chess wondergirl said: "I faced tough games against Chen Zue of Qatar and Zhao Xue of China, but I won."
Humpy's immediate plan, after the Games, is to take part in the Singapore Masters tournament next month and hopefully finish at the top.
She will also be seen in action combining forces with her male compatriots Krishnan Sasikiran and P Harikrishna in the team event to be played in the classical format.
Photograph: GNNPhoto/Leonard Aarons