After becoming the first American to win an English FA Cup, Manchester United goalkeeper Tim Howard is enjoying a little down time back home.
Howard has not been named in the squad to represent the United States in their World Cup qualifier against Grenada on Sunday but is unwinding after enjoying an exhilarating and emotional first year in the English premier league.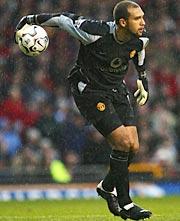 "I'm thankful that this year was somewhat of a success," said Howard who overcame a mid-season dip in form to be named the league's top goalkeeper.
He made 43 appearances, including 32 in the league, and posted 16 clean sheets in all competitions, four of them in Champions League play, as well as helping United to beat Millwall 3-0 in the FA Cup final last month .
Thirteen months ago, Howard was the centre of attention when he was first linked with a move to United.
He had impressed for Major League Soccer's New York/New Jersey MetroStars and his athleticism and 1.92-metre, 95-kg frame was well suited to the premier league's fast, physical play.
But there were doubts about whether he could secure a work permit to complete his $4.2-million transfer.
The 25-year-old Howard, who turned professional after high school, gained the coveted work permit through an appeal after his application was initially denied due to his low number of international appearances.
"I was shocked that Man U came after me, never mind get a work permit," said Howard, who has now won nine U.S. caps.
"It's one of those things in life, you don't ask questions, you take it and run, like when the bank gives you an extra $50. United is very influential I suppose."
NUMBER ONE
Joining one of the world's top clubs and suddenly being thrust into the fray of league play as well as the European Champions League was worlds away from anything Howard had experienced.
"The intensity in the club, the expectation your team mates have, your manager has, was amazing," he said. "Roy Keane, Ryan Giggs, (Paul) Scholes, the Nevilles, all those guys, they've been there for so long. The expectation is right there in the dressing-room, you don't need to look anywhere else. I wanted to play my part, to be up to par with my outings every time."
The FA Cup aside, United did not win any silverware and finished third behind Arsenal and Chelsea.
Howard was number one at Old Trafford, minus a six-game spell when he sat out after a loss of form.
"It's cut-throat," he said. "Thankfully for me, I learned that early on. The pressure to perform, the intensity of training, the intensity of every single match -- that was what struck me as being really different over there.
"Every training session, guys are getting stuck in."
Howard said the entire United squad were supportive when he joined.
"Everyone was tremendous," he said. "Guys like Quinton Fortune, Ruud van Nistelrooy and Roy Carroll have been especially supportive. Van Nistlerooy's writing his own history, yet he's one of the most humble guys I've ever seen. Roy Carroll really helped me fit in, he's been nothing but professional."
Despite the English experience of U.S. keepers Kasey Keller (Tottenham Hotspur) and Brad Friedel (Blackburn), Howard says it remains a challenge to dispel the public's opinion of American players in England.
INITIAL YEAR
"Before Kasey went over, they were saying: 'No American can play'," Howard said. "Then Kasey and Brad went over and they were saying: 'Okay, the goalkeepers can play'.
"It's changing little by little -- they don't want to give us full credit yet. We (U.S.) continue to get results on the international level, that's what's important. We're (ranked) eighth and I think we're ahead of England, so that says something."
U.S. coach Bruce Arena said he was impressed with Howard's season.
"I think that when you're playing with a club the magnitude of Manchester United, it's very demanding," Arena said. "There's a lot of pressure and I think overall he responded quite well in his initial year with them. I think he's only going to get better."
U.S. internationals Claudio Reyna (Manchester City), Eddie Lewis (Preston) and Brian McBride and Carlos Bocanegra (both Fulham) have also settled into the English game.
"Eddie Lewis, Claudio Reyna and I can see each other on a daily basis," Howard said. "But people really get bent out of shape about Claudio. They say: 'How can you be friends with a City player?' I just laugh. That's the most ludicrous thing I've ever heard, but for them, it's a reality."
Unless they are facing each other in a derby, Reyna is one of Howard's biggest supporters.
"I always root for him and I'm sure it's the same likewise," Reyna said.
"When we play each other it's a big rivalry but obviously, as a friend, you want him to do well."