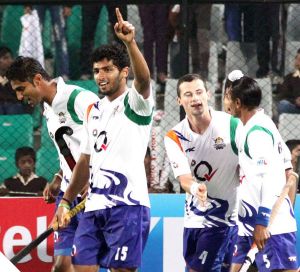 Uttar Pradesh Wizards held last year's runners-up Delhi Waveriders 1-1 in the third drawn encounter of the second edition of Hero Hockey India League at the floodlit Major Dhyan Chand National Stadium in New Delhi.
It was expected to be a high-voltage encounter between the two top teams of the league but it turned out to be a tame affair as both Waveriders and Wizards displayed below-par hockey to share two points each from the game.
Both the goals came from field efforts. While Waveriders took the lead through Yuvraj Walmiki (23rd minute), Wizards drew parity through S K Uthappa in the 62nd minute.
It was a drab first quarter as both the teams took time to get their footing in the match. There was not much action in the first 17-and-half minutes as Waveriders and Wizards failed to create open chances.
The second quarter was no different as the two teams continued to slug it out at the midfield but it was the hosts who capitalised on their chances.
The Waveriders took the lead in the 23rd minute through Walmiki who found the back of the Wizards net after being fed by Simon Child.
The Wizards got a golden opportunity to draw parity in the 33rd minute but Luke Doerner wasted a penalty corner much to the disappointment of his team.
The Wizards were guilty of throwing away their chances as they wasted their second penalty corner of the match in the third quarter. Waveriders goalie Nicolas Jacobi came up with a fine save to keep away visiting skipper V R Ragunath's flick.
The visitors, however, did not lose hope and continued to work hard and their efforts finally bore fruit when Uthappa scored from the top of the circle in the last 10 minutes of the game to level the scores.
The draw, however, propelled the Waveriders (19 points from six games) to the top of the points table ahead of Jaypee Punjab Warriors, while the Wizards continued to hold on to the third place with 15 points from five matches.
The Wizards will next take on bottom-placed Dabur Mumbai Magicians at the same venue tomorrow before squaring up against the Wizards in the return leg match in Lucknow on Saturday.
Photograph Courtesy: HIL on Facebook