Former high jump world champion Blanka Vlasic will not compete in the London Olympics due to injury problems, the Croatian said on her website on Saturday.
The 28-year-old, who has the second best jump of all time with 2.08 metres and was one of the favourites to win the Olympic gold medal next month, had surgery on her ankle and heal this year.
"I've been postponing the decision about my participation in London....but time is running out and time is the only thing that I need right now," Vlasic said.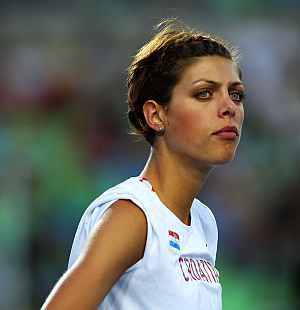 Vlasic said her fitness was improving but not quickly enough to give her a chance of winning the gold medal in London.
"I will not be able to get into the top shape in time for Olympic Games," she said. "I'm not interested in jumping below my usual level, so it is the best thing to stay home and get the healing process to the end."
Vlasic has had a history of health problems, culminating in thyroid surgery which sidelined her for most of 2005.
She recovered to win gold at the 2007 world championships and she took silver at the 2008 Olympics in Beijing.
Vlasic, world champion again in 2009, finished second at last year's world championships in South Korea after struggling with a knee injury and poor form for most of the season.
Photograph: Mark Dadswell/Getty Images