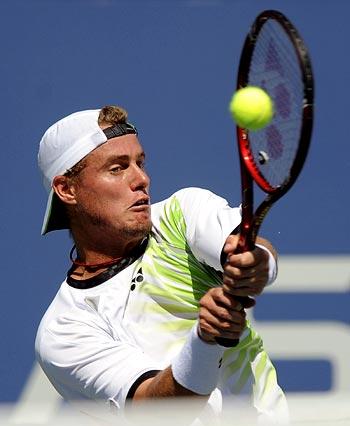 Former world number one Lleyton Hewitt slammed Australian tennis administrators for presiding over a period of decline in the local game and backed a leadership challenge to drive change.
Local media have reported that former Davis Cup player and Australia Open director Paul McNamee is bidding to oust incumbent Tennis Australia president and chairman Geoff Pollard at a board election at the end of this month.
Pollard, who has held the posts unopposed for 20 years, told local media this week he wants to remain in the job for another year to oversee the completion of key projects.
Hewitt said on his website that it is time for Pollard to go and threw his weight behind McNamee.
"In my opinion tennis in Australia and the way it is being administered needs addressing, as we are falling behind many other nations in the world, as well as other sports in our own country," Hewitt said.
"The current administration appear excellent at 'talking things up', wanting complete total control of tennis in Australia and trying to be a Fortune 500 company!!
"But the loser at the moment is the game of tennis and that is what is continually being discussed within the tennis community.
"So where should be the first place one looks for change? At the top, the President, the Chairman of the Board!" he added.
Regarded a major tennis power and a fixture of Davis Cup finals until the turn of this century, Australia's fortunes have plummeted in recent years amid reduced player stocks.
Only two players, world number 23 Hewitt and 64th-ranked Peter Luczak, are in the men's top 100, and Samantha Stosur (14) and Jelena Dokic (69) among the women.
The leadership challenge comes as Tennis Australia is set to announce a nearly $7 million loss for the financial year, local media reported this week.