Fighting in the American professional circuit could soon be reality for budding Indian pugilists as a new boxing firm will be scouting for fresh talent in the coming days.
"My sole objective was to give credentials to those players who could not make it to the Olympics and the Commonwealth Games. I also have a vision of taking up female boxers in future," said CEO of Guilty Boxing Puneet Dureja at the launch.
The idea will be to zero in on such talents, who probably have not been a top amateur thereby missing out on competing in the Olympics will slog it out with athletes from the countries like USA, Mexico, Russia, Germany, China, Japan and Pakistan.
Dureja rued the fact that budding talents are not getting proper platform to showcase their mettle at the international level, Guilty Boxing is coming up with such opportunities for them.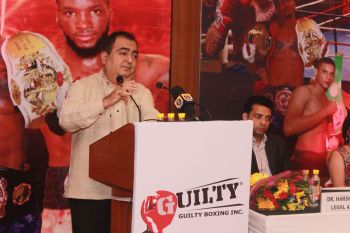 "This is the best platform for young boxers to display their talent like IPL, where 5 young talents will fight in rounds of 2 to 3 minutes duration," he said.
Keeping in the mind the lack of Infrastructure available for the boxers here which has dented India's chances of bringing up world class boxers, organisers has emphasized on providing the upgraded facilities to the young Turks.
"Tournament will motivate youth to be a part of this sport by providing proper training and maintaining international standards of boxing as per Olympic Association and retaining transparency and anti-pressure policies on players," Puneet added.
Asked whether the women boxers will take part in this event or not, officials said that company is planning to come up with training programmes for the girls that will benefit them in their daily life as well.
"We need to groom female boxers not just for a sport but as a part of self-defence as there is a tremendous potential and strength among Indian women and we expect to launch them internationally in a year or two," said media director Deepa Roy.
Matches will be held in Las Vegas from September onwards.