Sanam Singh enjoyed a good day in office, reaching the men's singles quarter-finals and doubles semi-finals in the US $15,000 ITF men's Futures tournament in Toronto, Canada.
The second seed overcame a fighting Evan King of the United States 6-4, 7-6(0) in the second round of the singles and will fight it out with Canadia's Brayden Schnur for a place in the semi-finals.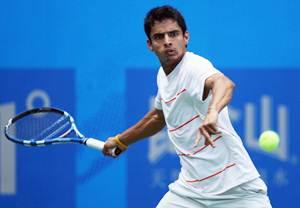 In doubles, he and Vijayant Malik defeated the United States' Sekou Banggoura and Eric Quigley 6-1, 3-6, 11-9 in the quarter-finals.
The will meet third seeds Jason Jung and Evan King of the United States.
In the Sharm El Sheikh tournament in Egypt, N Sriram Balaji, seeded second, moved to the singles quarter-finals following a walk over from Rafal Teurer of Poland.
Arjun Kadhe beat local qualifier Youssef Hossam 6-2, 6-0 to make it to the second round, where he will meet eighth seed C Rodriguez of Colombia.
Kadhe also tasted success in the doubles as he and Pol Tledo Bague of Spain shocked the second seeded Portuguese pair of A Gaspar Murta and Danyal Sualehe 6-4, 6-2.
They will meet India's Sasi Kumar Mukund and Morocco's Mohamed Adnaoui, who beat the Polish pair of Dariusz Lipka and Pavel Lipka 6-3, 3-6, 10-6.
Image: Sanam Singh
Photograph: Getty Images