Indian golfer Jyoti Randhawa says he is finally ready to enter the US PGA Tour and is confident his ranking will take him to the world's toughest pro tour circuit.
Randhawa, 35, retained the Indian Open Asian Tour event at the weekend to equal the record of three wins by Australia's Peter Thomson, a five-time British Open champion.
The European Tour regular quickly adapted to the coarser greens at his home Delhi Golf Club despite being used to smoother European courses in the last two years, winning at 13-under on the par-72 circuit.
"I guess I'm ready for the US PGA," Randhawa told Reuters after his win. "It is just a matter of time, whenever I do it."
"It is just luck, timing, I'll be there," he said. "I'm just going to focus on playing in Europe and my world ranking will get me to the US Tour."
The soft-spoken player with a passion for sports bikes said three seasons ago he wanted to grow as a player in Europe before moving to US rather than try to qualify. Randhawa is emerging as Indian golf's flag-bearer thanks to a solid show in Europe. This season, he has six top-10 finishes including second at the Spanish Open and is ranked 32nd.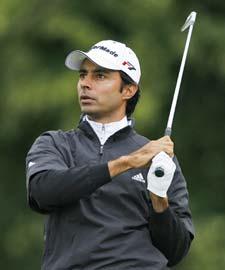 The son of a retired army officer, Randhawa is keen to take one step at a time, unlike compatriots Jeev Milkha Singh and Arjun Atwal.
Jeev, the 2006 Asian Tour Order of Merit winner, had to endure a seven-year wait for a win until he claimed four in 2006, including the European Volvo Masters.
Jeev is the best-ranked Indian in the world at 76th, ahead of Randhawa on 92nd.
Atwal, the first Indian to win both a European Tour title and then qualify for the US PGA Tour, has struggled in the last two years.
Randhawa says he is now confident he can win at any level.
"I'm really putting in the effort this year, and hopefully in one or two years the results should show," he said. "I'm very pleased with the way I've played in Europe."
RAPID STRIDES
Golf has taken rapid strides in India in terms of talent and sponsorship, next only to cricket, and players such as Randhawa are seen as the driving force.
"I'm a much more mature, sensible player," he told reporters. "I can handle the pressure much better. Hopefully, (if) I can carry on like this I shouldn't be very far from doing well.
"In golf, you are always learning, adjusting, maturing. That is like life."
Randhawa said the birth of his son Zorawar early this year has calmed him, joking that he had asked his wife Tina to keep the baby off the course because his cries would have distracted him.
Among his events this year will be next month's World Cup in Shenzhen, China, where he will partner Gaurav Ghei, also an Asian Tour winner this year, after India earned a direct berth.
Randhawa said he was constantly looking to raise the bar.
"I remember somebody say 'set your goals, and once you reach them, re-set again,'" he said. "That is what I'm going to do."