Birthday boy Shiv Kapur recorded his best score on the European Tour with a tied 12th finish at the US $2.3 million Johnnie Walker Classic in Perth on Sunday.
Kapur, who turned 24, carded a fourth straight sub-par round at two-under 70 to finish the week at 12-under 276 that pushed him to third place on Asian Tour Order of Merit and improve his chances of getting a full European Tour card for the 2007 season.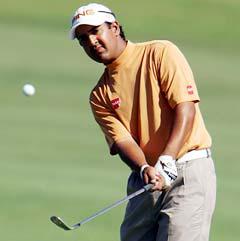 "I am happy with the way I played, though there were times I left a few shots out there. Still, coming close to a top-10 was quite satisfying," said Kapur, who interestingly finished one shot behind one of his childhood idol Fred Couples.
Couples fired an eagle on the closing 18th to finish the day at 72 and tied for ninth at the event, co-sanctioned by the Asian, European and Australasian circuits.
American Kevin Stadler stepped out of his father Craig Stadler's shadow as he joined the list of celebrated winners of the Johnnie Walker Classic with an eagle on the 18th for the third day in a row.
That beat back the challenge from Australian Nick O'Hern. Stadler, the overnight leader struck a mighty eagle at the par five 18th hole at The Vines Resort and Country Club to claim a sensational victory, closing with a final round of three-under-par 69 for a winning score of 20-under-par 268.
Kapur's previous best in an European Tour event was tied 19th at the Indonesian Open last year.
"I'm pretty satisfied with four decent rounds, to shoot under par over four days on a course like this, especially in the final round when the wind was blowing," said Kapur, who carded earlier scores of 68, 71 and 67.
"I could have been a couple of shots better. This was another week where I wasn't really happy with my putting."
Kapur starting from the tenth opened with a fine birdie but gave away that shot two holes later on the 12th.
A birdie-bogey sequence followed on 15th and 16th, before he closed his opening nine with birdie on 18th.
On the back journey, he bogeyed the fifth, to come down to par.
But a determined Kapur made up with birdies on the sixth and eighth and ended at two-under 70 that carried him very close to a top-10.
The left-handed O'Hern birdied his last two holes, narrowly missing an eagle on 18, for a 68 to briefly tie with Stadler.
But the young American, whose father Craig is a 13-time winner on the US PGA Tour and a former US Masters winner, responded magnificently by nearly holing his three iron approach from 220 yards out.
His ball stopped a foot from the cup, which he sank for an eagle.
Australian duo Richard Green and Robert Allenby shared third place, four behind the winner after rounds of 71 and 66 respectively.
Leading final round scores:
268 - Kevin Stadler (USA) 64-69-66-69
270 - Nick O'Hern (AUS) 67-71-64-68
272 - Richard Green (AUS) 66-69-66-71, Robert Allenby (AUS) 69-68-69-66
273 - K.J. Choi (KOR) 65-66-70-72
274 - Francesco Molinari (ITA) 71-65-66-72, Adam Scott (AUS) 64-71-70-69, Ian Poulter (ENG) 70-66-69-69
275 - Gavin Flint (AUS) 72-64-66-73, Fred Couples (USA) 71-67-65-72, David Diaz (AUS) 69-72-64-70
276 - Ross Fisher (ENG) 69-67-68-72, Chris Campbell (AUS) 71-67-67-71, Shiv Kapur (IND) 68-71-67-70
277 - Paul Casey (ENG) 68-69-67-73, Prayad Marksaeng (THA) 72-66-70-69, Andrew Buckle (AUS) 73-69-67-68
278 - Craig Parry (AUS) 68-70-65-75, Lee Sung-man (KOR) 71-71-64-72, Stephen Allan (AUS) 72-69-67-70
279 - Stephen Leaney (AUS) 70-66-69-74, Peter O'Malley (AUS) 69-70-67-73, Kim Felton (AUS) 71-68-67-73, Nick Flanagan (AUS) 72-68-66-73, Steve Webster (ENG) 71-68-68-72, Peter Senior (AUS) 68-68-72-71, Soren Kjeldsen (DEN) 70-71-67-71, Leigh Mckechnie (AUS) 73-66-70-70, Scott Gardiner (AUS) 70-66-74-69.