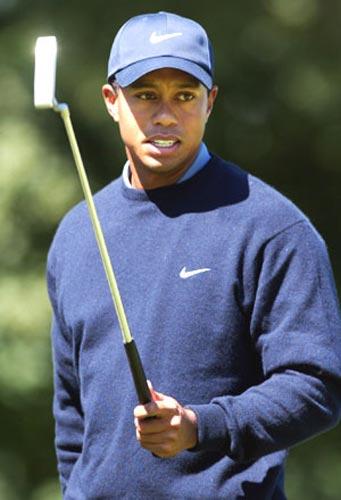 The head of the US professional golf tour on Thursday applauded Tiger Woods' decision to take a break from the game over a sex scandal, but he played down fears the sport would suffer from the absence.
PGA Tour Commissioner Tim Finchem portrayed as exaggerated scenarios suggesting the tour would lose many sponsors and see its television ratings plummet 50 per cent or more without the presence of the world's No. 1 golfer.
Woods, 33, last week admitted to infidelity in his marriage to his Swedish wife Elin Nordegren as allegations of multiple extramarital affairs rocked his life and career.
The golf icon, the world's first billionaire athlete and believed to be its wealthiest sports figure, said he would take an indefinite break from pro golf to try to save his marriage.
"I'm not saying that I think everything's fine," Finchem told reporters in a conference call. "We're in a down economy, it's harder and having the No. 1 player in our sport not play is not a positive thing and it does hurt television ratings."
"We are going to be successful in '10 even if Tiger is out for a couple of months or eight months or a year," he added.
"It won't be at the same levels without our No. 1 player, but the doom and gloom needs to go away," he said.
The PGA Tour had 2008 revenue of $773 million from television and tournaments, and $208 million from supporting businesses including website, licensing and productions, according to its annual report. Finchem said 2010 has the same number of tournaments as 2008.
Finchem said he had not spoken with Woods since the scandal over his private life broke late last month and did not know when the golfer would return to the sport.
Some US media outlets, including ABC News and People Magazine, reported Woods' wife Elin planned to leave him and seek a divorce, although she has not announced this publicly.
Finchem said the golf world got by well enough last year, and early this year when its star draw missed eight months recovering from leg surgery. However, during that time, TV ratings for golf tournaments without Woods fell almost 50 percent compared with years he played and attendance suffered.
ECONOMY A WORRY
Finchem, who pointed out Woods plays in fewer than half the tour's annual tournaments, said he had bigger things to worry about than when the golfing idol would return.
"Our biggest concern, of course, for now over two years, has been the economy," he said, noting the loss from golf of some sponsors such as General Motors Co and Chrysler.
Finchem, who earlier also spoke in a CNBC interview, said 2009 was a "phenomenal" year for sponsorship deals, citing numerous extended or new agreements.
"I don't see corporate America backing away from golf over Tiger's issues," he said, adding PGA Tour sponsor Accenture Plc has not asked to rework its tour contract despite ending its individual endorsement deal with Woods.
"Golf is centuries old," he added. "It's on a tremendous growth path in certain parts of the world, punctuated this year by being accepted into the Olympic Games."
However, Accenture is not alone in distancing itself from Woods, who was estimated to earn about $100 million a year from his endorsements before the scandal.
The golfer's popularity has dropped sharply over the last two weeks as a parade of up to 13 women, including at least one porn star, came forward to say they had had flings with the married father of two. The allegations emerged after Woods was involved in a minor Nov. 27 car accident at his Florida home.