World number one Rory McIlroy acknowledged on Wednesday he was wrong to walk off mid-round at last week's Honda Classic and said his toothache was not bad enough to justify quitting the tournament.
Facing the media for the first time since his controversial withdrawal at PGA National, McIlroy said it soon dawned on him that he had made the wrong decision.
- Wozniacki backs beleaguered boyfriend McIlroy
"Obviously I've had a lot of time to think about it. I realised pretty quickly that it wasn't the right thing to do," he told a news conference ahead of Thursday's first round of the WGC-Cadillac Championship.
"No matter how bad I was playing, I should have stayed out there. I should have tried to shoot the best score possible even though it probably wasn't going to be good enough to make the cut," he said, referring to his ill-fated second round where he played the first eight holes at seven over-par before quitting.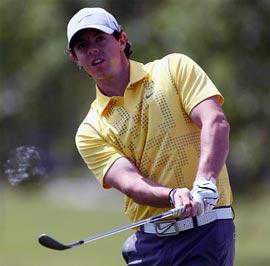 McIlroy initially told reporters on Friday as he was heading to his car that he was not in a "good place mentally" but a later statement cited pain from his wisdom tooth.
Asked which version was the truer reflection of the reason for his withdrawal, McIlroy said both were factors but that his tooth pain was not enough of an explanation.
"Both. I wasn't in a good place with my golf game. I was, you know, mentally - you know, my head was all over the place.
"But at the same time, I have been struggling with my lower right wisdom tooth for over a year.
"So, yeah, look, my tooth was bothering me, but it wasn't bothering me enough to probably, you know, quit but that's just the way it is," said the Northern Irishman, who is paired with Tiger Woods and England's Luke Donald on Thursday and Friday at Doral's Blue Monster course.
McIlroy has played just four full professional rounds in three months, missing the cut in the Abu Dhabi Championship in January and suffering a surprise first-round exit in the WGC-Accenture World Match Play Championship last month in Arizona.
NIKE CLUBS
The 23-year-old said he had spent 20 hours over the weekend working on his swing, trying to correct the fault which he blames for his poor early season form.
"I've worked my ass off over the last four or five days to really try and get this right," he said.
"Still, it's a work-in-progress. As I said, there's no quick fixes in golf but I'm going to go out there this week and all I care about is my swing, and I know if I can get my swing back on track, that the results will follow."
The twice major championship winner dismissed any suggestion that his switch to Nike clubs in January in a multi-million deal was behind his disappointing displays.
"I know that it's just purely the swing. The equipment is fantastic. I have no problems at all. When I make a good swing, the ball goes where I want it and the flight I want it, so I know that it's not that. It's just getting my swing on the right path," he said.
McIlroy also dealt with speculation that he may have off-the-course issues, perhaps related to his girlfriend, Danish tennis player Caroline Wozniacki, hampering his focus on the game.
"No, not at all. I've read what's been written and just because I have a bad day on the golf course and Caroline loses a match in Malaysia, it doesn't mean that we're breaking up," he said with a laugh.
"It's sport, and I'd rather keep my private life as private as possible. Everything on that front is great and I'm looking forward to seeing her next week when she gets to Miami," he added.
Photograph: Warren Little/Getty Images