India's top-ranked female player Dipika Pallikal kept the tri-colour fluttering by progressing into the quarter-finals of the women's singles squash event, even as compatriots Saurav Ghosal and Joshna Chinappa bowed out at the Punj Lloyd PSA and WISPA Masters in New Delhi.
World ranked 29th and 8th seed, Pallikal defeated Scottish qualifier Lisa Aitken 3-0 in the opening round at the Siri Fort Sports Complex.
The 19-year-old Chennai girl overwhelmed her first time opponent Aitken 11-6, 11-9, 11-3 in 29 minutes to advance to the next stage. She is likely to meet world number seven and second seed in the event Kasey Brown of Australia.
"I was playing my opponent for the first time so it's very difficult to understand the game. It was always tough going. I just kept the ball in play and stick to my game plan. In the second game, I committed some mistakes but soon rectified them. Overall I am happy with my performance," said Pallikal after her match.
"I would be playing Kasey Brown tomorrow if she wins her opening round match. Kasey is inside the top 10 in the world so it's going to be a tough task at hand," she said.
On her upcoming commitments on the WISPA circuit, Pallikal said, "This year was very crowded for me first the Commonwealth Games and then the Asian Games So I need to take a break before deciding anything further. I'll start my training soon with Malcolm (Willstrop)."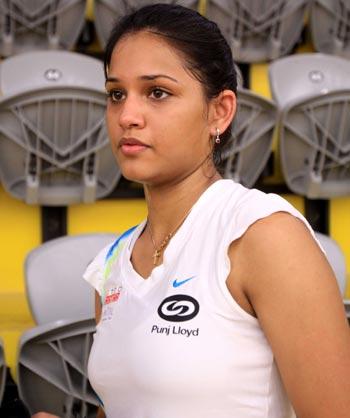 After winning the first game comfortably, Pallikal was stretched to the maximum by Aitken in the second with scoreline reading 9-9 at one stage. Pallikal showcased her famous dead drops winners to seal the issue 11-9.
In the third, she made short work of her Scottish opponent, stretching her lead to 4-0 and then moved to 7-3 before finally sealing the match in her favour.
Meanwhile, in the men's event PSA Masters, it was curtains for India after national champion Saurav Ghosal went down fighting to third seed Egypt's Amr Shabana in the pre-quarters.
World ranked 22nd and country's top ranked player Ghosal lost 5-11, 6-11, 11-6, 9-11 in 42 minutes to former world number one Shabana, much to the disappointment of sparse crowd.
"He was unbelievable right from the word go. He was just perfect in his approach and not much I could do with that. I performed to my fullest and still able to give him a fight which was a good sign as far my squash is concerned. I am overall happy with my performance," said the 25-year-old Ghosal after the match.
"I was playing an all-time great. Shabana is getting older if you see him but his game is touching new heights day by day. It was great experience for me," said the Guangzhou Asian Games bronze medallist. Shabana praised Ghosal for his fighting ability and said the Indian racqueter is progressing in the right direction as far as his game is concerned.
"Ghosal is playing good and going in the right direction. He has got the ability to build pressure on the top players with his fast game. I wish him all the best in coming future," said the Egyptian.
"First two games I played well against Ghosal but he came back strongly in the third. I gave him few chances to open up and he went on to win that game. So it was good match overall," he said.
In the other matches of the women's event, WISPA Masters, all the three Indian girls in fray, including world ranked 36th Chinappa, failed to advance further after losing their respective opening round matches against higher-seeded opponents.
While Chinappa gave a glimpse of her fighting abilities before going down 6-11, 11-7, 8-11, 11-7, 10-12 against Hong Kong's Annie Au in 55 minutes, unseeded qualifier Anaka Alankamony was defeated 3-11, 4-11, 5-11 in 23 minutes by sixth seed Malaysia's Wee Wern Low.
Aparajitha Balamurukam lost 4-11, 2-11, 1-11 to third seed France's Camille Serme in other bottom half of the main draw.
"I am very disappointed with my performance today. Wish I would have taken few more chances against Annie. He has got great front foot play and that made the difference," Chinappa said after her match.
"I was nervous in the first game but entered the second game more confidently. I just kept the ball in play and waited for the right shot. I am upset but happy in other way that I played well against a higher ranked opponent," said Chinappa, who will be next playing in the USA in the third week of January.
All other top seed men's players including top seed and world number two Nick Matthew of England, Australia's Cameron Pilley, Egypt's Hisham Mohd Ashour, England's James Willstrop and women racqueter Jenny Duncalf of England advanced to the quarter-finals.