Who was voted best French soccer player of all time?
Zinedine Zidane, one would think, because he was the inspiration behind France's only World Cup triumph, in 1998 on home soil, and is such a gifted player.
Wrong. The answer is Michel Platini.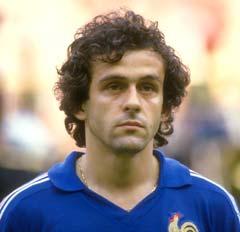 That poll from 2001, when Zidane was at the peak of his powers, sums up just how much the great Platini side captured the imagination of generations of football lovers despite the fact that they never won the most coveted of all trophies.
Just mention Platini to any French fan of 30-something or over and he will immediately come up with two more names: Alain Giresse and Jean Tigana.
The three formed arguably the most brilliant midfield combination ever seen. Forget rugby; in those days French flair was all about football.
That team, remembered as the Brazilians of Europe, never had a Thierry Henry or a David Trezeguet, nor even a decent scrambler, but who needed a striker with a Platini around?
The frail number 10 with the delicate touch scored 41 goals from 72 appearances for his country and, during his years at Juventus, ended as the top scorer in the Italian league three times -- quite an achievement for a midfielder.
UNIQUE SKILLS
In those days a player without the heart of a distance runner and the muscles of a body builder could make it to the top, which Platini did, relying only on his unique skills and game intelligence.
Tigana could run and Giresse, despite his short frame, could tackle but Platini just played with the ball.
"When I was a kid, my father told me that the ball would always go faster than I might do and I listened," Platini once said.
"Instead of running, I concentrated on letting the ball do the job. I never considered myself as an athlete."
The side won the 1984 European championship in France but on the World Cup stage they never went further than the semi-finals, in 1982 and 1986, falling to West Germany each time.
In Seville on July 8 1982, France played West Germany for a place in the final in Spain at the Sanchez Pizjuan stadium.
The extraordinary match was marred by an infamous ugly scene when German keeper Toni Schumacher flattened French substitute Patrick Battiston with a flying tackle that left the Frenchman concussed, injured and needing hospital treatment.
The score was 1-1 after 90 minutes and France, inspired by great moves from their gleaming midfield trio, opened up a 3-1 lead in extra time before two late German goals forced a shootout, which France lost 5-4.
"One can forget certain things but that was unforgettable," Giresse, who scored France's third goal, said.
"The more you think about the game and how it went, the more you feel regret. If I carry on talking about that match for an hour, I get angry purely because of this irritation -- I have to stop it."
GREAT NAMES
On a hot afternoon in Guadalajara on June 21 1986, in the quarter-finals of the tournament in Mexico, France were challenging an awe-inspiring Brazil side featuring such great names as Zico, Socrates, Julio Cesar and Careca.
Platini and company needed a measure of luck but tamed their prestigious opponents. Brazil opened the scoring through Careca on 17 minutes, France levelled through Platini shortly before the break and in the second half France goalkeeper Joel Bats saved a Zico penalty. A shootout was needed and France won it 4-3.
"I will never forget that match," said former France and Chelsea midfielder Emmanuel Petit, who was 15 then. "It was so emotional. We were lucky to win in the end but we beat the best team in the world. I watched it at home on television and felt ever so proud of being French."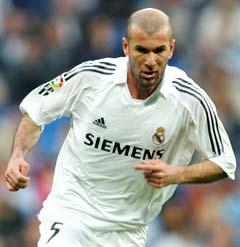 France had played their final too early, however, and were beaten 2-0 by West Germany in the last four.
Years later came Zidane whose vision, effortless close control, delicate turns and ability to create space made him one of soccer's greatest players.
That talent enabled Zidane, the son of Algerian immigrants, to live a life that most from his humble roots in the tough La Castellane district of Marseille could only dream about.
The Real Madrid midfielder, now 33, has said he will retire after leading France at next month's World Cup in Germany.
Platini has been impressed by Zidane's career, but only up to a point.
"Zidane does some extraordinary things, it's true. But you have to put everything in context," Platini said during Euro 2000, arguably Zidane's finest moment with France.
"What Zidane does with a ball, Maradona could do with an orange," added Platini, who was too modest, or too smart, to bring up his own name in the comparison.
(Reuters)