Qualifiers Spain and the United States suffered blows in friendlies, the world champions beaten 1-0 by eliminated South Africa on the SoccerCity pitch where they clinched their 2010 crown and the Americans losing 1-0 away to lowly Austria.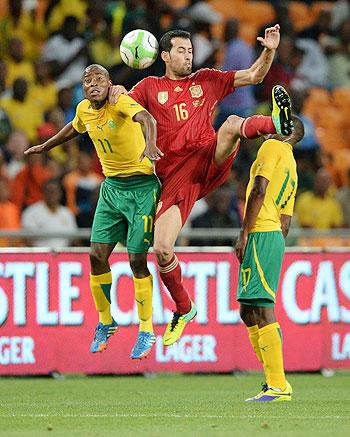 "I think we can even say the defeat was well deserved," Spain coach Vicente del Bosque told Cuatro TV.
"We started well but little by little they started to open us up and we allowed them time to counter attack."
In friendlies among 2014 finalists, Per Mertesacker's header sealed Germany's 1-0 win as England lost for the second time in five days at Wembley, the Netherlands drew 0-0 with Colombia and much-hyped Belgium went down 3-2 at home to Japan.
Ange Postecoglou enjoyed a winning start as Australia coach with a 1-0 triumph over Costa Rica and Russia saw off South Korea 2-1 in another friendly in Dubai.
Striker Sergio Aguero scored twice to give Argentina a 2-0 win over Bosnia at the Busch baseball stadium in St Louis, Missouri on Monday, when Italy drew 2-2 with Nigeria in another neutral venue - London.
In a landmark friendly, Gibraltar drew 0-0 with Slovakia in Portugal on Tuesday in their first match since being admitted to UEFA, Europe's governing football body.
Image: Sergio Busquets of Spain wins the header during the International friendly match between South Africa and Spain at Soccer City Stadium in Johannesburg on Tuesay
Photograph: Duif du Toit/Gallo Images/Getty Images