Kim Clijsters, so near and yet so far from French Open glory in the past, suffered more agony on the clay with a sudden second-round defeat on Thursday but fellow-twice runner-up Robin Soderling powered through.
Czech dark horse Petra Kvitova made her move on the outside with a 6-4, 6-1 victory over China's Zheng Jie and 12th seed Agnieszka Radwanska also reached the third round by overcoming India's Sania Mirza.
Women's second seed Clijsters, a doubt before the tournament after injuring her ankle at her cousin's wedding, looked to have shrugged off the ill effects and a chilly breeze in a dominant first set before folding 3-6, 7-5, 6-1 to Dutchwoman Aranxta Rus.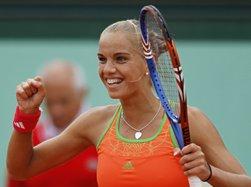 Belgian Clijsters was runner-up in 2001 and 2003 and her exit was her worst performance at Roland Garros since her debut in 2000. The Australian and US Open champion was also on a 15-match winning streak at grand slams.
Rus, the world number 114, was ecstatic.
"I just wanted to go for every point. I'd like to play every day like this," she said at courtside.
Sweden's Soderling lost out in the final in the last two years to Roger Federer and Rafael Nadal.
PAINTED FACES
The fifth seed is flying beneath the radar in Paris with all the focus on Nadal after his first-round struggles and the immense form of rival Novak Djokovic, but Soderling showed he too was a force with a 6-3, 6-4, 6-4 win over Albert Ramos.
Cheered on by a smattering of Swedes with painted faces on a half-full Court Suzanne Lenglen, Soderling displayed why he is so dangerous on clay with strengths in all areas making up for an occasional inability to kill off a point.
Men's champion Nadal had to battle back from two sets to one down to beat John Isner on Tuesday in his first five-set match at Roland Garros, prompting pundits and fans to wonder whether his bid for a sixth title in seven years was doomed to failure.
He meets fellow Spaniard Pablo Andujar later on Thursday. Andujar will not trouble Nadal with his serve as giant American Isner did but the world number one's general demeanour will be closely watched -- not leastly by Djokovic.
Russia's Maria Sharapova plays Caroline Garcia and, like Serbian Djokovic, she is quickly becoming the hot tip for victory at the famous French tennis venue -- which beat competition from the Paris suburbs in February to keep hosting the event beyond 2016.
Photograph: Reuters