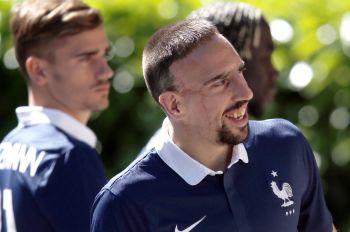 France winger Franck Ribery is ending his career with the national team to focus on his club and family, the player, who missed this year's World Cup through injury, said on Wednesday.
"I am stopping," the 31-year-old told German magazine Kicker in an interview to be published on Thursday. "I realised that this moment has come."
Ribery, a 2006 World Cup finalist who was Europe's player of the year in 2013, said he wanted to make way for a younger generation of players.
"I want to focus on my family and fully concentrate on my work at Bayern Munich and make way in the national team for the many young and exciting players," he said.
"One has to know when to stop. I have experienced so much and now is the time for others to come forward. You could see at the World Cup that we should have no concerns about France's future."
Ribery, who won 81 caps and scored 16 international goals, battled to be fit for the World Cup but despite intensive treatment he failed to make it to Brazil, where France lost to Germany in the quarter-finals.
"There were highs and lows but now is the time to start a new chapter in my life," he said.
Image: Franck Ribery
Photograph: Charles Platiau/Reuters