Finland's Kimi Raikkonen [ Images ] won an accident-strewn and thrilling Abu Dhabi Formula One Grand Prix [ Images ] for Lotus on Sunday.
Ferrari's [ Images ] Fernando Alonso [ Images ] finished second, just 0.8 seconds behind, with Red Bull's Sebastian Vettel [ Images ] a close third to retain the overall championship lead after a race with two safety car interludes.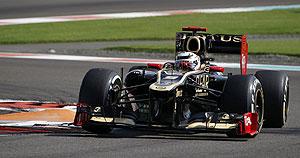 Vettel, who started from the pit lane, now leads Alonso by 10 points with two races remaining. They are the only drivers still in contention for the title.
The victory was the first of Raikkonen's comeback season and first since the 2007 world champion won in Belgium with Ferrari in 2009. It was also the first win since 1987 by a car racing under the Lotus name.
Photograph: Steve Crisp/Reuters