Under pressure Formula One supplier Pirelli has been surprised by the threat of a German Grand Prix boycott by drivers but expects no problems with its new tyres and is planning to stay in the sport.
The Grand Prix Drivers' Association announced on Thursday they will withdraw from this weekend's German Grand Prix if the five tyre blow-outs which marred Sunday's British race occur again and endanger their lives.
After the intervention of the governing FIA, Pirelli has brought upgraded rear tyres to the Nuerburgring with an inner belt made of the synthetic fibre Kevlar rather than steel.
"It was a little bit surprising having just had a meeting with them going through it," Pirelli motorsport director Paul Hembery told a small group of reporters about the boycott threat.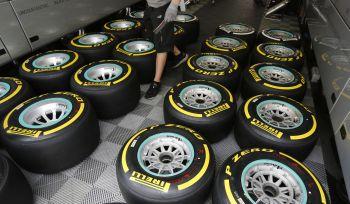 "At the end of the day we have to make sure we don't have any issues like we had at Silverstone. That's the bottom line."
Pirelli hit the headlines in May for a "secret" test with Mercedes, which led to the German team being barred from a young driver test - now open to race drivers as well - at Silverstone this month.
The firm then risked causing further anger after Silverstone by partly blaming the teams for the blowouts because of the way they were managing the tyres, specifically deliberately inverting the rear ones for performance reasons.
With tensions running high, Hembery was at pains to point out that the Italian company was also at fault.
"I have to say last weekend was our responsibility. We allowed the teams to invert the tyres when we shouldn't have done," he said on Friday.
"With the cars going much quicker this year that creates different loads. With the inverted tyres you create a weakness point, and that was the issue. There were secondary issues, which have been mentioned, but I don't want to take away from the fact it was our responsibility."
Pirelli rode to Formula One's rescue in 2011 after previous supplier Bridgestone pulled out of the sport and Hembery said the company would stick around this year as it looks to extend the contract into 2014.
Asked about next season, he added: "Yes, sure."
Engine rules are changing for next year with the introduction of a new 1.6 litre V6 turbocharged engine with energy recovery systems instead of the current V8.
But it is the current season which is more pressing given the Silverstone problems.
"We need to get it sorted, best way to react is do it properly and get things sorted and get things back on line. We are a professional company. We are very passionate about what we do and very good at what we do," he said.
"You don't walk away in difficult times, that's the time to work harder and make sure you do a better job."
The test Mercedes are banned from will take place again at Silverstone this month and Ferrari's Fernando Alonso, almost hit by a piece of tyre last Sunday, has said he is reluctant to take part in case the same chaos occurs.
"We've made a change. I don't understand the comment," Hembery said.
Photograph: Wolfgang Rattay/Reuters