Pirelli have ruled out a structural failure of their tyre as the cause of Sebastian Vettel's sudden puncture at last weekend's Abu Dhabi Grand Prix.
The Italian company, Formula One's sole tyre provider, suggested in a statement, on Wednesday, said that debris on the track could be to blame for the double World champion's first race retirement in more than a year.
"Having subjected the tyre to minute analysis, structural failure of the tyre or valve has been ruled out as a cause of the incident. Track debris or other outside circumstances cannot be excluded as a possible cause," it said.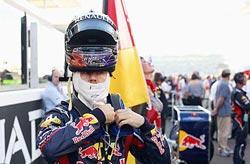 Motorsport director Paul Hembery added, however, that a close inspection of the track had provided no direct evidence to support the debris theory.
Pirelli said the right rear tyre was part of a set of softs that the Red Bull driver had used on the day before to take a record-equalling 14th pole of the season.
The tyre was largely shredded as Vettel nursed his car back to the pits after the puncture in the opening seconds of the first lap.
The damage caused by the flailing rubber, and the car running on a rim, forced Vettel to retire in the pits.
The race was won by McLaren's Lewis Hamilton, while the puncture ended Vettel's hopes of equalling Michael Schumacher's record of 13 wins in a single season.