McLaren's sporting director Sam Michael has taken a refreshing approach to his Formula One team's pitstop problems by promising that the beers will be on him once the crew average three seconds a stop.
-Hamilton takes third Canadian Grand Prix for McLaren
Pitstops have troubled the British Formula One team all season and 2008 champion Lewis Hamilton suffered some glitches again in his two stops on the way to winning in Canada on Sunday.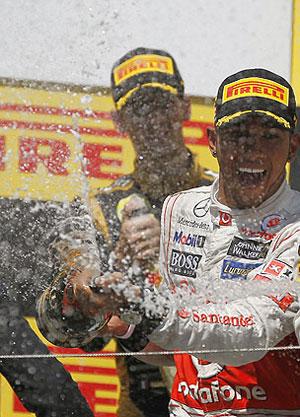 With no time-consuming refuelling allowed during the race any more, mechanics aim to complete a tyre change in under three seconds while a driver in Canada can be in and out of the pit lane in 21 seconds under a 60kph limit.
"Obviously we put a lot of effort into our pitstops, it's almost like a football team now, the way that we put the energy in," Michael told Sky television at the Circuit Gilles Villeneuve.
"We were regularly doing two and half second pitstops all the way through practice this weekend.
"The challenge is for them to beat three seconds, and they've got a massive motivation because I've already offered the whole team a round of beers the moment they average a three second pitstop," he smiled.
They failed to achieve that on Sunday but Michael said the times were still a big improvement.
"The first stops were so good that both drivers didn't react in time so we lost reaction time because we dipped about five tenths quicker than we have ever done," he said.
Hamilton recognised that he might have been at fault on that one, with the car going into anti-stall briefly when he released the clutch.
On the Briton's second stop, there was a brief delay on the right rear wheel - long enough for Hamilton's singer girlfriend Nicole Scherzinger to bang the table in exasperation as she watched in the garage.
Michael cleared the mechanic of any blame.
"Our right rear gunner, who is actually the fastest gunner, the re-cock mechanism on his gun didn't re-cock basically. So when he went back on it was still in off mode. So he had to modify his gun and go again," he said.
"He's our best guy and actually hasn't had a fault all year. Because of his experience I knew he'd recover it and he did."
The rear-left had been in the spotlight previously, responsible for sluggish stops in Bahrain and China for Hamilton and Jenson Button respectively.
That crew member was replaced after Bahrain, when pit processes were also reviewed.