After the stupendous success of this year's inaugural edition, next season's Indian Grand Prix Formula One race will be held on October 28 at the Buddha International Circuit at Greater Noida.
The 2012 Indian GP will be the 17th of the 20-leg championship, this was decided at a meeting of the World Motor Sport Council (WMSC) in New Delhi,on Wednesday, under the presidency of Jean Todt, the FIA President.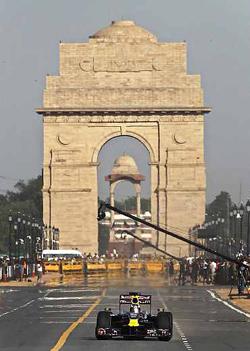 The meeting confirmed the 2012 FIA Formula One World Championship calendar.
The inaugural Indian Grand Prix was held on October 30 this year and the event turned out to be a huge success at the state-of-the-art Buddh International Circuit in Greater Noida.
A number of other Technical Regulations and Sporting Regulations decisions were also taken in the meeting, which is a part of the ongoing FIA Annual General Assembly being held from the first time in India.
An eight-leg rally event for 2012 was also confirmed as well as 12-event FIA World Touring Car Championship calendar.
Among other important decisions, Austrian F1 champion Gerhard Berger has been appointed as the new President of the FIA Single-Seater Commission as current president Barry Bland is stepping down.
The WMSC will meet next on March 9 in Milan, Italy.
The 2012 F1 Calendar:
18-03: Melbourne (Australia);
25-03: Sepang (Malaysia);
15-04: Shanghai (China);
22-04: Sakhir (Bahrain);
13-05: Barcelona (Spain);
27-05: Monaco (Monaco);
10-06: Montreal (Canada);
24-06: Valencia (Europe);
08-07: Silverstone (Great Britain);
22-07: Hockenheim (Germany);
29-07: Hungaroring (Hungary);
02-09: Spa-Francorchamps(Belgium);
09-09: Monza (Italy);
23-09: Singapore (Singapore);
07-10: Suzuka (Japan);
14-10: Yeongam (Korea);
28-10: Greater Noida (India);
04-11: Abu Dhabi (Yas Island);
18-11: Austin (United States);
25-11: Interlagos (Brazil).