Red Bull's Formula One champion, Sebastian Vettel tried to play down his chances of winning the Italian Grand Prix on Thursday but McLaren rival Jenson Button was having none of that.
"I think we know that Monza is not one of the circuits that we really prefer from a layout point of view," Vettel said. "A lot of straights, no real high-speed corners," added the runaway championship leader, winner of seven races and with a 92 point advantage over Australian teammate Mark Webber with seven races remaining.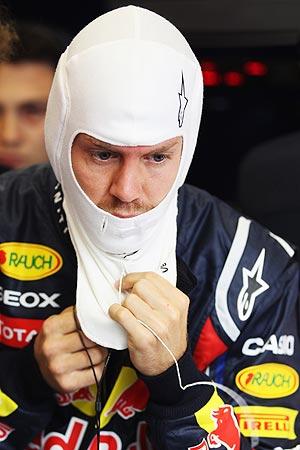 "We struggled in the past here. The last two years, we were not as competitive as we would like to be...I think we are not the clear favourites for this weekend."
Vettel's team boss Christian Horner has also pointed out that Red Bull have yet to finish on the podium at Monza, although sister team Toro Rosso won with the German in 2008, and described the circuit as probably their weakest.
Jenson Button, runner-up for the last two years at Monza with McLaren and Brawn in his 2009 title-winning season, was more sceptical. Ferrari, with Spain's Fernando Alonso, won their home race last year from pole position but the Briton suspected Red Bull would be more the ones to watch this time.
"I think our main competitors will be different than last year," Button said, mindful that Red Bull have been on pole position in all 12 races so far this season.
"At the moment you would say the Red Bulls are very strong at circuits where you don't expect them to be strong. They are going to be tough to beat here," he said. "It's not their easiest circuit but Spa (last month's Belgian GP) was never their best circuit either and they won one-two. They are going to be competitive here," Button added.