News of all that's transpired on and off the football field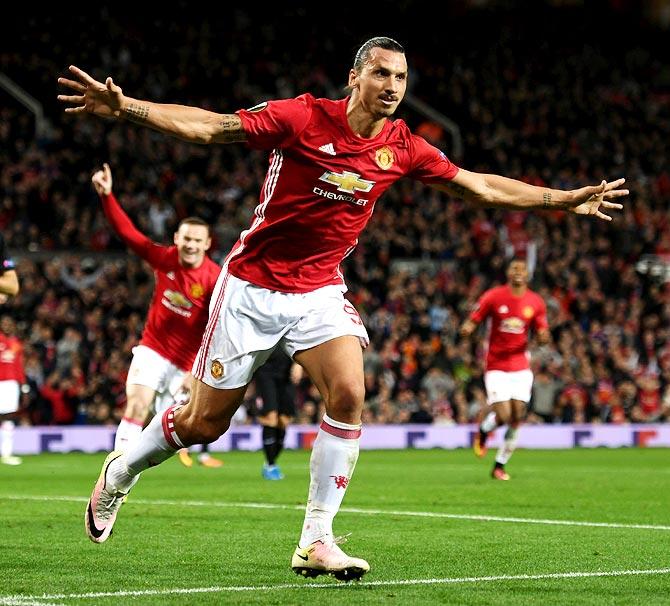 IMAGE: Zlatan Ibrahimovic celebrates scoring a goal for Manchester United. Photograph: Laurence Griffiths/Getty Images
Swedish striker Zlatan Ibrahimovic returned to Manchester United on a year-year contract "to finish what I started," the 35-year-old announced in a club statement on Thursday.

"It was always mine and the club's intention for me to stay. I cannot wait to get back out on that Old Trafford pitch" he said. "I am back to finish what I started."

Ibrahimovic has not played since May after suffering a knee ligament injury in the 2-1 Europa League win over Anderlecht.

He underwent surgery which was expected to keep him out for the rest of the year and, in Thursday's statement, Ibrahimovic suggested he is not ready to make an immediate return.

"I know that I have to take my time to make sure that I am ready," he said.

Although United released the much travelled striker after his one-year contract expired in June, he was allowed to use their training ground to recuperate and has recently posted on Instagram to prove his fitness.

"I have been working hard and will continue to do so to make sure I am in the best possible condition for my return to the pitch," he said.

Ibrahimovic, who will wear the number 10 shirt, scored 28 goals in 46 appearances for the club last season, helping them to win the EFL Cup and Europa Cup.

Manager Jose Mourinho indicated that he is looking to the Swede to play an important part in the second part of the season.

"We are delighted Zlatan is on the road to recovery and we are equally delighted to have his ambition and experience back with us," said Mourinho.

"After his contribution last season he deserves our trust and we will be patient waiting for him to return. I have no doubt that he will be important in the second part of the season."

United are joint top of the league after winning both their opening matches, scoring eight goals without reply against West ham United and Swansea City.

Three of the goals have been scored by Romelu Lukaku, a 75 million pound ($96.08 million) replacement for Ibrahimovic from Everton.

Mourinho is well stocked with striking options, including England international Marcus Rashford and Frenchman Anthony Martial.
Arsenal handed Sanchez boost ahead of Liverpool trip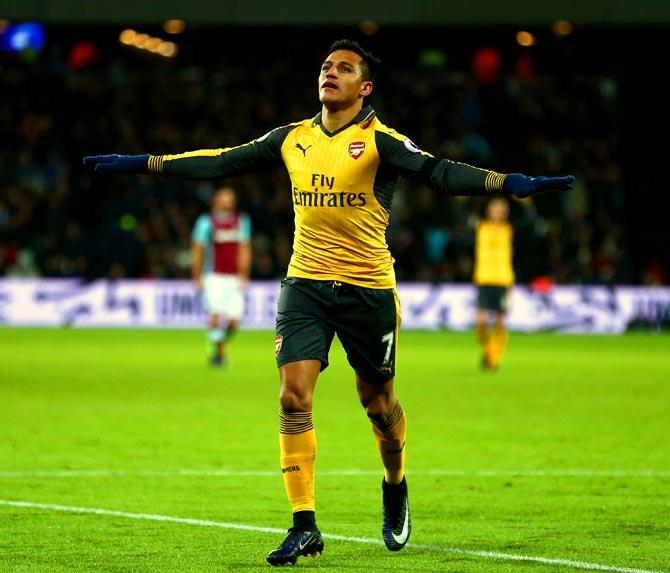 IMAGE: Alexis Sanchez celebrates scoring a goal. Photograph: Jordan Mansfield/Getty Images.
Arsenal's Alexis Sanchez is fit to face Liverpool on Sunday and is focused on giving "absolutely everything" for the team despite uncertainty over the striker's future at the club, manager Arsene Wenger has said.
The Chilean, Arsenal's top scorer with 24 league goals last season, has attracted plenty of interest from rival clubs as he enters the final year of his contract and missed the first two Premier League games of the season with an abdominal strain.
"Sanchez has worked hard to be back and available again," Wenger told a news conference on Thursday. "Alexis works very hard, he's very focused and gives absolutely everything.
"He looks ready, he has not played for long time so I will have to decide what I do with him. (He could start) but we have to make that decision. We play on Sunday and he looks in good shape."
French media have linked Sanchez with a move to Paris St Germain, while British media have reported that Manchester City are also interested in reuniting the 28-year-old with their manager Pep Guardiola, whom he played for at Barcelona.
Wenger said Sanchez had not been distracted by the transfer speculation and did not rule out the possibility of the Chilean committing to fresh terms.
"I don't think he's too much disturbed by all the noise, players at that level are used to it now," the manager added. "He is very focused, very happy and the fact he goes into the last year of his contract doesn't mean we can't extend it."
Alex Oxlade-Chamberlain is another player with less than a year of his deal to run and Wenger said he wanted the 24-year-old to stay at the club.
"I want Alex... to be one of the big players for the future, one of the players the team can be built around," Wenger added.
"I want to keep my best players.... We've invested time and money and confidence in players like Ox and they have a responsibility. I hope he commits."
Koeman expects player and club to benefit from Rooney decision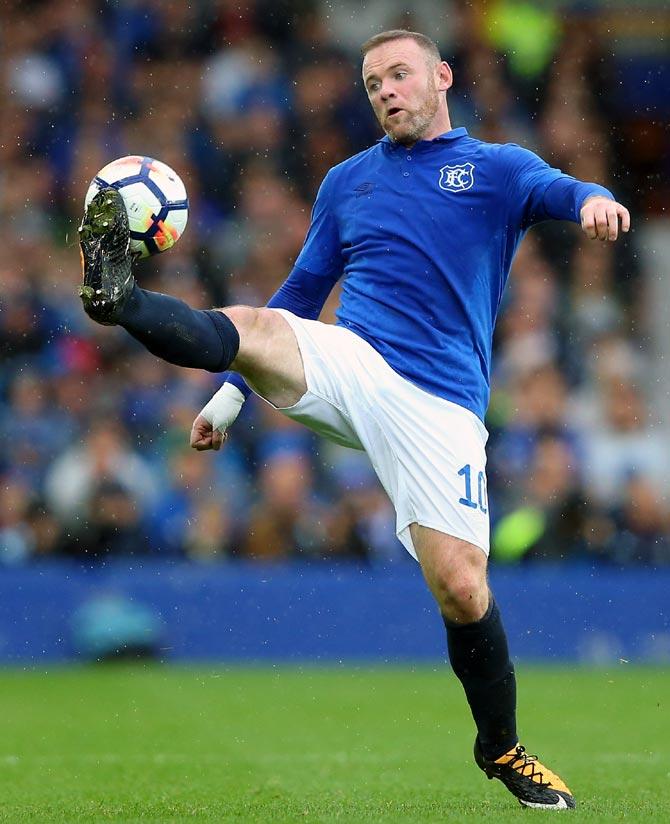 IMAGE: Wayne Rooney. Photograph: Alex Livesey/Getty Images
Wayne Rooney's retirement from the England national team is the best choice for both the player and Everton as it allows the 31-year-old more time to recover his fitness during a busy domestic schedule, his club's manager Ronald Koeman has said.
Rooney, who rejoined Everton from Manchester United in July, ended his 14-year England career when the country's all-time leading scorer announced his international retirement on Wednesday.
Everton hold a 2-0 lead over Hajduk Split from the first leg of their Europa League qualifier and travel to Croatia for the second leg on Thursday. Progression to the group stages, means the Merseyside club will compete in four different competitions.
"He had a talk with the national coach and made his decision, because he thinks it is the best for Everton," Koeman told reporters. "It is always the player's decision and, of course, I respect that.
"If you reach the group stage of the Europa League and have international duty, then that is a really tough programme.
"His fitness is really good at the moment... I think it is a good decision for him and a good decision for Everton. It means when the internationals come, he will have some time at home with his family."
Palace will not rush injured Zaha, says de Boer
Crystal Palace will not rush injured winger Wilfried Zaha back into action and have not put a timeframe on the Ivory Coast international's return, the Premier League club's manager Frank de Boer has said.
The 24-year-old, who scored seven league goals and provided 11 assists to win Palace's Player of the Year last season, sustained a knee injury during their 3-0 defeat to Huddersfield Town in the opening league game of the season.
"Wilf is a very robust player, the first couple of days (after the injury) are very important to have a rest and, from now on, I think he's going to start rehab," De Boer said after Wednesday's 2-1 win over Ipswich Town in the League Cup.