Robinho married his long time companion Vivian Guglielmetti Junits in Guaruja, Brazil on Thursday.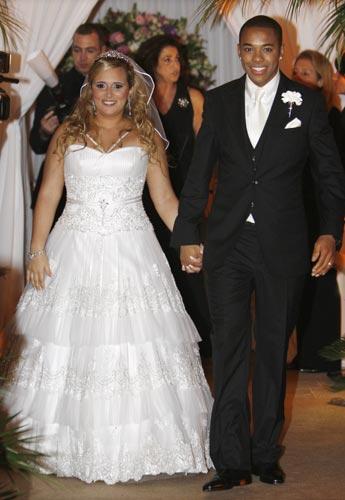 Among those who attended the meeting were Brazil manager Dunga and his Selecao teammates Kaka, Julio Baptista, and Elano.
The couple were in a relationship for the past 11 years.
The Brazilian forward had in December 2007 become a father when Vivian delivered a baby boy, Robson Junior, in the municipality of Santos, in Sao Paulo.
Robinho had found out about Vivian's pregnancy in May that year and shortly after began dedicating every goal he scored to his unborn child by sucking his thumb.
Robinho, despite his impeccable talent, jhas been in the news for the various controversies that he has got himself into time and again.
In January this year, the Manchester City forward had been arrested over allegations he sexually assaulted an 18 yr old girl in a Leeds nightclub.
The Brazilian, who at £32.5 million is Premier League's most expensive footballer, denied the charge and gave a routine DNA sample to try and prove his innocence.
In April, the police said Robinho won't face any charges.
Also in March, Robinho threatened to sue Pele over claims made by the legend that he had taken recreational drugs.