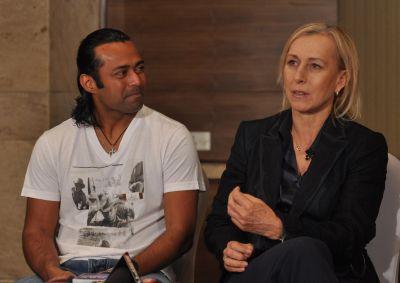 Ten years after winning their first Grand Slam titles (Australian Open and Wimbledon) together in 2003, Leander Paes and Martina Navratilova met in Mumbai and shared memories on what made them a winning pair on court and great friends off it.
Martina said, "Leander and I are very similar as people, and so we have a similar style of playing."
Paes revealed that it was Navratilova who taught him that age is just a number.
Navratilova said it was up to Paes to decide on his future.
"Lee can play for as long as he wants, as long as it is something he is enjoying. I enjoyed watching him play the Australian Open with Czech Radek," said Navratilova.