The two-day talent hunt -- the Airtel Rising Stars final -- conducted by Manchester United coaches kicked off at Duler Stadium in Mapusa, Goa on Thursday.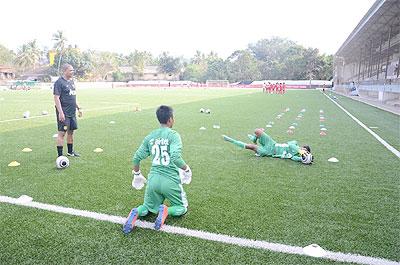 The final camp, India's largest under-16 talent hunt, is being overseen by Manchester United coaches Lami Sonola, Kecvin O'Connell and Adam Hilton.
Of the 23 finalists at the camp -- chosen after an intensive six-month talent hunt across seven cities -- 11 will be picked to train at a weeklong camp at the ManchesterUnitedSoccerSchool in the United Kingdom.
In what was an intense day of learning for the footballers, Sonola, O'Connell and Hilton conducted a series of short programs to make the players sharper and better.
The Manchester United coaches laid emphasis on confidence and freedom in football. They also briefed participants on playing their individual game, and displaying their distinguishing strengths and expertise.
The camp included programs like 5-a-side matches, where coaches challenged players with different scenarios and conditions to test the techniques and skills.
The coaches also presided over a session where the youngsters were given pointers to sharpen their dribbling skills and shooting skills.
A special workshop for goalkeepers was also held before the players were shown a presentation by Ryan Giggs on what it takes to be a Manchester United player.
The 23-player group will be judged on technical and tactical skill, physical and mental strength, social skills, on field behaviour, communication, discipline, enthusiasm and fair play, before the final list of 11 players is drawn on Friday.