FIFA has opened disciplinary proceedings against Argentina captain Javier Mascherano after he was sent off for kicking the driver of a medical cart in a World Cup qualifier against Ecuador on Tuesday.
The Barcelona midfielder was shown a red card by Paraguayan referee Enrique Caceres with four minutes to go in Quito after the player lost his temper with the driver who he thought was going too fast in transporting him off the pitch injured.
Mascherano had to be calmed down by Argentina's support staff as he climbed off the cart when it stopped at the side of the pitch amid angry scenes involving players from both teams.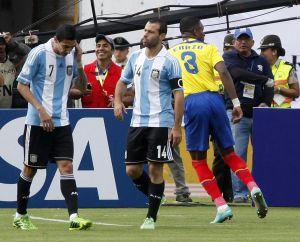 "We are able to confirm that we have opened proceedings against Mascherano but as usual we will not comment further because the case is ongoing," the media department of soccer's world ruling body FIFA told Reuters on Friday.
Mascherano apologised after the match, telling reporters: "I was wrong. I asked him to go slowly, he didn't heed me and I reacted. But it was not justified.
"The stretcher (cart) was going too fast, it was moving about and I was about to fall off. With the (Argentina team) doctor we told him to go slower, he didn't take any notice and I reacted. But, I repeat, it wasn't justified.
"I feel ashamed. One always preaches non-violence. The truth is I was wrong. It's not nice to be sent off in that way and cause such a tumult".
Mascherano added on Twitter: "I really apologise for the reaction I had, nothing justifies this".
Argentina took the lead with an early penalty from Sergio Aguero before Segundo Castillo's 17th-minute equaliser earned Ecuador a 1-1 draw.
The Argentines lead the way on 26 points in South American World Cup qualifying, three points ahead of Colombia and five in front of third-placed Ecuador and Chile in fourth.
The top four advance to the 2014 finals in Brazil.
Photograph: Kevin Granja/Reuters