Manchester United manager Sir Alex Ferguson believes his current squad is even stronger than his treble-winning team in 1999, adding he could have put out two teams of internationals against Real Madrid during their Champions League clash.
Fergie said he didn't have this strength in depth 14 years ago when he had to put rookie Jonathan Greening on the bench for the Champions League Final in the Nou Camp, the Daily Mirror reports.
Ferguson said it's nice to look back at these things and how it was done in that particular time with the squad of players he had, which is not nearly as strong as the one he has now.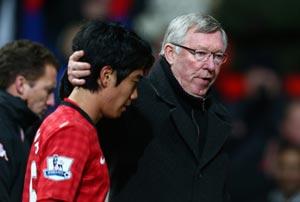 The Old Trafford boss added numbers wise this squad is stronger, adding when they went to the final, Roy Keane and Paul Scholes were suspended and Henning Berg was the only injury at that time, but still had to pull in a player, Greening, who had only played a few times for the club, and he actually got a winner's medal for sitting on the bench.
Fergie said that gives you an idea of the respective strength of the squads, adding, now, it's not just the four strikers he could change in fact he could change the entire team now.
The Scot added there were good internationals that weren't even involved on Wednesday against Madrid, and he further said that he could have played a completely different team on Wednesday still they would have got a result.
Photograph: Clive Mason/Getty Images