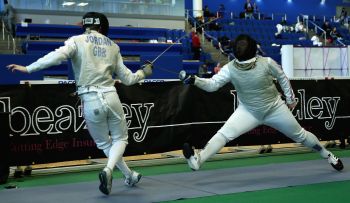 With the IOA's return to the Olympic fold, Indian fencers will be able to represent the country after Fencing Association of India's (FAI) suspension has been revoked by the sport's international federation.
The FAI has been suspended by International Fencing Federation (FIE) after International Olympic Committee suspended India on December 5, 2012.
Now that the suspension on the Indian Olympic Association has been lifted, the FIE also decided to revoke the suspension it had imposed on the FAI.
"We got a letter from the FIE the day IOC lifted the ban on the IOA, saying that we are no longer under suspension. Then the FIE Executive Board meeting on Feb 14-15 ratified the decision," FAI Secretary Sanjay Pradhan said.
The revocation of the suspension came just in time for four Indian fencers to take part in the Asian Junior and Cadet Fencing Championships from March 7-16 in Amman, Jordan.
"We can now heave a sigh of relief because our four fencers can now represent the country in the Asian Championships," he said.
With the lifting of the ban on FAI, only Indian Amateur Boxing Federation remained suspended by its international federation.
Taekwondo Federation of India (TFI) has also been re-instated by World Taekwondo Federation (WTF) on February 12.
"The WTF would like to inform you that the Taekwondo Federation of India has been reinstated, with immediate effect, as a Full Member of the WTF, with the right to participate in all WTF events, including General Assembly with the voting right," the WTF had said in a letter to TFI.
"We note that eleven Indian athletes participated in the 2013 WTF World Taekwondo Championships Puebla under the WTF flag. Now, with the TFI's full status restored, it is our hope that Taekwondo in India will see further positive developments," the WTF had said.
Photograph: Getty Images/Getty Images for Beazley