Barcelona midfielder Cesc Fabregas has said his only wish is to succeed with the Spanish champions and has dismissed the idea that he could be lured away to another club.
Manchester United boss David Moyes is trying to bring the 26-year-old Spain international back to the Premier League, which he left when he returned to his boyhood club from Arsenal in 2011.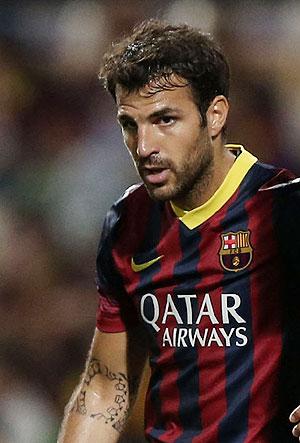 "Nothing has changed. I am happy at Barcelona. My dream is to play and triumph here and I have never considered leaving," Fabregas told a news conference in Kuala Lumpur, where Barca are to play a pre-season friendly against a Malaysia XI.
"When an important team makes two offers for you, it's flattering, but I have never spoken to anyone from United. I haven't spoken to another club in two years."
Fabregas has struggled to find a regular place in the starting XI at the Nou Camp due to the quality of the competition around him, and speculation had arisen that his frustration may lead him to seek a move.
A degree of uncertainty has surrounded Barca in the close season with coach Tito Vilanova stepping down due to illness and being replaced by Gerardo Martino, but the new boss made clear in his first news conference he wanted Fabregas in his plans.
"Things have been made up," the former Arsenal captain added.
"I have had messages from (president Sandro) Rosell, (vice-president Josep Maria) Bartomeu, and (former coach) Tito (Vilanova). I have spoken with Tata (new boss Gerardo Martino).
"I have felt wanted at all times. I have never had a problem. And it isn't true that I have asked for a new contract either."
The arrival of 57 million euro ($75.92 million) new recruit Neymar will not have made life any easier for Fabregas as he seeks a greater role at Barca next season.
"I know what Martino wants from me, it is very clear," Fabregas said.
"I will have to work very hard."
Photograph: Getty Images