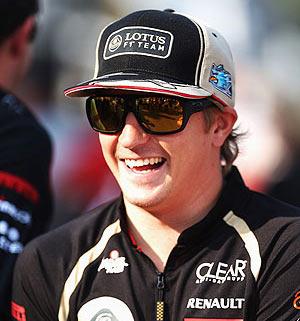 Kimi Raikkonen will race for Ferrari next season after agreeing a two-year deal that takes the 2007 Formula One World champion back to the glamour team he left in 2009.
Ferrari said the 33-year-old Finnish 'Iceman', currently competing for Lotus, will replace Brazilian Felipe Massa alongside Spain's double World champion Fernando Alonso.
"Scuderia Ferrari announces that it has reached an agreement with Kimi Raikkonen. The Finn will join Fernando Alonso in the driver line-up for the next two racing seasons," a statement from the team read.
Massa, championship runner-up to Lewis Hamilton in 2008 before he suffered near-fatal head injuries in Hungary the following year, had already announced on social media that he would not be driving for the Italian team in 2014.
Ferrari last had two world champions in their lineup in 1953, when Italians Alberto Ascari and Giuseppe Farina were together.
Raikkonen and Alonso should be a force to be reckoned with, although there could also be fireworks.
Since the arrival in 1996 of Michael Schumacher, the seven times-world champion Raikkonen replaced at the end of 2006, Ferrari have preferred to have one clearly dominant driver in their lineup.

That was not the case in 2008, when Massa almost won the title, but Alonso wasted no time in stamping his authority on the team when he replaced Raikkonen.

Massa started 2010 still recovering from near-fatal head injuries sustained at the previous year's Hungarian Grand Prix and the Brazilian never regained his previous level of performance.

Ferrari chairman Luca Di Montezemolo has said in the past, reacting to speculation that Vettel could partner Alonso, that he did not want "two roosters in the same henhouse".

Ferrari decided, however, that Raikkonen - who won this year's Australian season-opener and recently ended a record 27 race scoring run - is a better bet than Massa.

Red Bull and Vettel have a firm grip on both of this year's championships and Ferrari are already focusing much of their attention on next year, when the rules go through significant change and a new V6 power unit is introduced.

The team, winners of a record 16 constructors' and 15 drivers' championships but without a title since 2008, are not in the habit of re-signing their ex-drivers although Austrian Gerhard Berger had two separate three-year stints at Maranello in the 1980s and 1990s.

Raikkonen should have no problems fitting in at Maranello, with Pat Fry and James Allison - his former technical directors at McLaren and Lotus (formerly Renault) - now with Ferrari. Both men also worked with Alonso, who won his two titles with Renault, at those teams.

The Finn won nine races for Ferrari between 2007 and 2009.
Image: Kimi Raikkonen
Photograph: Mark Thompson/Getty Images