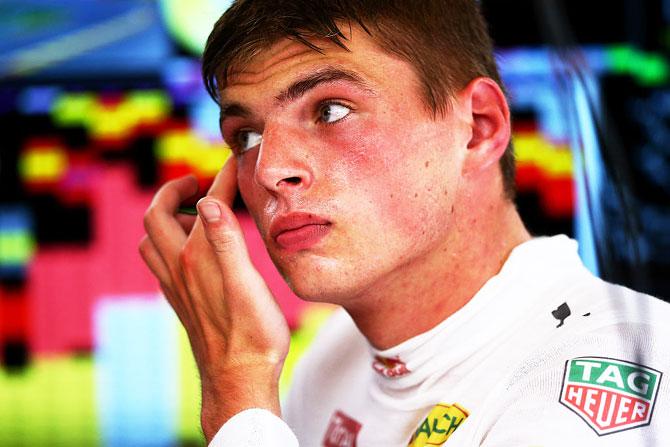 IMAGE: Max Verstappen of Netherlands and Red Bull Racing speaks with his engineers in the garage after practice. Photograph: Dan Istitene/Getty Images
Red Bull driver Max Verstappen has received a flurry of criticism from the Formula One world, including legendary driver Niki Lauda who asked him to consult a psychiatrist after the teenage driver was involved in a three-car collision in last week's Belgian Grand Prix.
Although the Mercedes non-executive chairman described Verstappen as the 'talent of the century', he said the teenager needs to realise that his race was above the limits.
"Drivers mustn't put each other in danger unnecessarily," Lauda told German television after the race.
"He went way over the limit when he didn't need to. The boy lacks the insight to see he has made a mistake."
Lauda also told Luxembourg's RTL network: "Kimi's criticism was fully justified, and he (Max) needs a psychiatrist if he says it was Kimi's fault.
"The young man is a talent of the century, but if he has no understanding of doing something wrong, I'll talk to his father Jos and tell him to speak with his boy. It was well above the limit."
The 18-year-old tangled with both Ferraris at the start of the Belgium race before clashing with the cars later to make a disappointing 11th-place finish.
Ferrari's Kimi Raikkonen said that he was absolutely fine with hard racing, but insisted that what Verstappen had been doing during the race was not correct.
Verstappen was leapfrogged by Raikkonen and Sebastian Vettel off the line but attempted to make the places up on a tight first corner only for the three cars to collide.
"I think it was a very bold move trying to recover those two places in one corner diving down the inside," said German Vettel who was on the outside and collided with Raikkonen before the Finn and Verstappen's Red Bull made contact.
All three were forced to pit with damage to their cars, Raikkonen nearly losing a lap as mechanics rushed to extinguish flames emerging from beneath his Ferrari.
Raikkonen and Verstappen clashed twice more later in the race, including another collision, and the Finn was more upset about the Red Bull driver changing direction at high-speed as he chased him down the flat-out Kemmel straight.
"If I would not have braked we would have had a massive accident," said Raikkonen who criticised Verstappen over the radio during the race.
"I'm sure it will happen sooner or later if this doesn't change."
Vettel also admitted that the criticism against the Red Bull driver was justified while requesting everyone to not make it into a big issue.
The four-time world champion, however, said that some of Verstappen's manoeuvres especially during braking were not correct.
Mercedes boss Toto Wolff also could not stop himself commenting on the teenage driver.
He said that he was fond of Verstappen's aggression, comparing the impression that Verstappen was leaving on his rivals as `reminiscent of Hamilton or Ayrton Senna`.
However, Wolff added that Verstappen needs to undergo a driver briefing at Monza as he is equally a dangerous driver as well.
On the other hand, Red Bull chief Christian Horner came in defence of his driver, saying that Verstappen might have gone to the limit, but the stewards saw no reason to initiate an investigation against him.
Verstappen has impressed with his racecraft and overtaking skills but his driving has at times been called a bit too aggressive, especially in last month's Hungarian Grand Prix where he also clashed with Raikkonen.
"I'm just defending my position and if somebody doesn't like it, it's his own problem," added Verstappen who was fastest on the opening day of practice.