Liverpool striker Luis Suarez has accepted his 10-match ban for biting Chelsea's Branislav Ivanovic during last weekend's Premier League match, the FA said on Friday.
"The suspension begins with immediate effect and applies to Liverpool FC's next 10 domestic first-team fixtures," the FA said in a statement.
Suarez accepted a charge of violent conduct after biting Ivanovic on the arm during Sunday's 2-2 draw at Anfield - an incident missed by the match referee.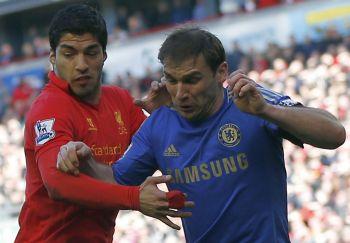 The FA's Independent Regulatory Commission, which met on Wednesday, decided that the normal three-game ban for a violent conduct charge was not sufficient, adding a further seven matches to the Uruguayan's suspension.
Liverpool manager Brendan Rodgers was critical of the Football Association for the severity of Suarez's punishment and there was some sympathy from rival managers on Friday.
"In this case, the proportionality looks very severe considering what other players have been punished for," Arsenal manager Arsene Wenger told reporters.
"I think what has gone completely against Suarez is his history, that is very heavy on the offence front.
"That's why he has been punished so severely, that's the only explanation I can find."
Manchester City's Roberto Mancini said during his Friday news conference: "Five or six games was enough, this is my opinion but I don't work for the FA."
Liverpool were yet to comment on Suarez's decision not to appeal against the 10-match ban.
It is the second time the 26-year-old Suarez has been punished for biting an opponent after he bit PSV Eindhoven's Otman Bakkal on the neck while playing for Ajax in 2010, earning a seven-match ban.
Suarez was also banned for eight games last season after being found guilty by the FA of racially abusing Manchester United's Patrice Evra in October 2011.
Photograph: Phil Noble/Reuters